Source: Syfy
schedulebot
[
NOTE: Syfy schedule subject to change(s)
]

STORMY WEATHER MOVIE MARATHON - SYFY: SCHEDULE FRIDAY, JUNE 28, 2013
08:00 AM
Ba'al: The Storm God
An arrogant archaeologist unleashes a dangerous storm god with the aid of an artifact.
Cast includes Jeremy London, Stefanie von Pfetten, Scott Hylands, David Lewis,
Fringe's
Michael Kopsa, Elias Toufexis and
Continuum's
Lexa Doig.
10:00 AM
Meteor Storm
Repeated meteor strikes imperil San Francisco, causing a city official (
Michael Trucco
) to evacuate the populace while a scientist (
Kari Matchett
) tries to determine the cause of the strikes and head off an extinction event.
Cast includes
Battlestar Galactica's
Michael Trucco,
Covert Affair's
Kari Matchett, Kirsten Prout, Brett Dier, Eric Johnson and Kevin McNulty.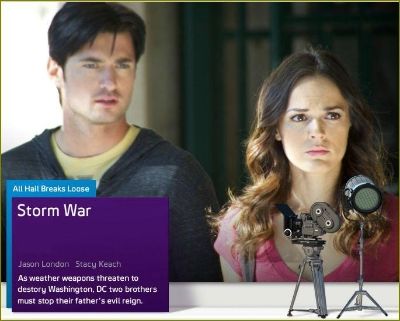 12:00 PM
Storm War
A deranged scientist uses weather weapons against his enemies and the city of Washington, D.C., spurring his two estranged sons to unite against him.
Cast includes Jason London, Stacy Keach, Anna Adair, Wes Brown, Erin Cahill, Jesse De Luna, Miles Doleac, Griff Furst, Gary Grubbs, Indigo, Nick Jones Jr., Lance E. Nichols, Billy Slaughter, Roger J. Timber and John Wilmot.
02:00 PM
NYC: Tornado Terror
Tornadoes trash the Big Apple after a huge storm system stakes out the skies over New York.
Cast includes Nicole de Boer, Sebastian Spence, Jerry Wasserman, Winston Rekert, Colby Johannson, Tegan Moss, Jill Morrison, Matthew Harrison, Paulo Ribeiro, Jennifer Copping and
Sanctuary's
Agam Darshi.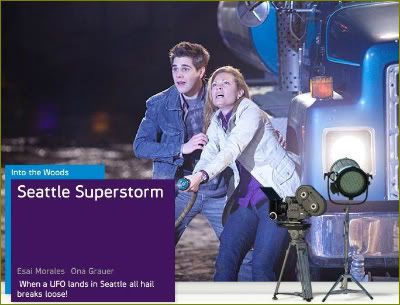 04:00 PM
Seattle Superstorm
A scientist and a soldier must save the world from deadly storms triggered by a
UFO
that crashed in Seattle's Puget Sound.
Cast includes
Caprica's
Esai Morales,
Stargate Universe's
Ona Grauer, Jared Abrahamson, MacKenzie Porter, Martin Cummins, Michelle Harrison, Matty Finochio, Dominika Juillet and Jesse Moss.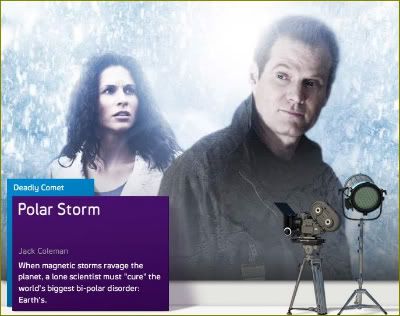 06:00 PM
Polar Storm
Magnetic storms wreak havoc after a meteor nearly hits Earth.
Cast includes Jack Coleman, Holly Elissa Lamaro, Tyler Johnston, Terry David Mulligan,
Continuum's
Roger R. Cross and David Lewis.