Source:
You Tube
and thanks to
Tuning Into SyFy TV
for the heads up!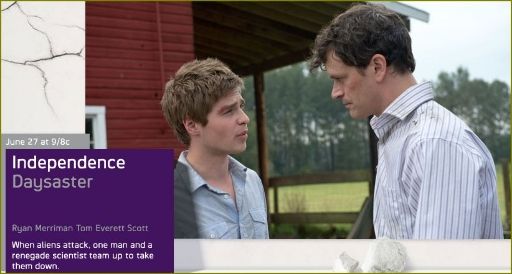 INDEPENDENCE DAYSASTER - VIDEO: EXTENDED MOVIE TRAILER - NEW THURSDAY, JUNE 27, 2013 AT 9/8C ON SYFY
Watch the original movie Independence Daysaster June 27th at 9/8c
When the Earth is attacked by alien machines on the 4th of July, a small town firefighter and a rogue
SETI
scientist team up to activate the only technology capable of defeating the invaders.
Cast includes Ryan Merriman, Tom Everett Scott, Keenan Tracey, Iain Belcher, Michael Kopsa, Jill Teed, Emily Holmes, Andrea Brooks, Garwin Sanford, Lane Edwards, Aaron Craven, Revard Dufresne, Sean Tyson, Nicholas Carella, Grace Sherman and Casey Dubois.