Source:
TV Guide
[follow link for complete column]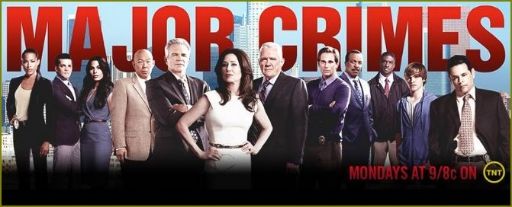 TV GUIDE: The Monday Playlist: Under the Dome, Major Crimes, Warehouse's Head Case
Jun 24, 2013
by
Matt Roush
...
SUMMER DRAMA
: Try not to roll your eyes too much at the opening scene of
TNT's
disappointing
The Closer
spin-off
Major Crimes
(9/8c), which trots out the old cliché of an amateur ride-along with the seasoned
LAPD
crime squad. At least this interloper, a cocky young writer for a TV crime drama about corruption within the
LAPD
, is amusingly played by
Ben Feldman
, best known as
Mad Men's
mercurial Ginsberg and
Drop Dead Diva's
first guardian angel. Naturally, a routine drive with an irritable Sanchez (
Raymond Cruz
) and the show's consultant "Lt. Mike" Tao (
Michael Paul Chan
) gets a bit out of control. And as the tricky ensuing case unfolds, one of the better stories
Major Crimes
has presented, the upstart observer can't help pointing out troubling elements of racial profiling and civil-rights violations. That is, when he isn't busy lusting after Detective Sykes (
Kearran Giovanni
).
CLICK HERE TO VIEW THE EPISODE TRAILER FOR 'UNDER THE INFLUENCE'