Source:
TV Guide
[follow link for complete column]
TV GUIDE: The Monday Playlist: A Birth Switcheroo, Syfy Cliffhangers, a Major Complication
Jul 8, 2013
by
Matt Roush
...
THAT'S A WRAP
: Quite a lot happens in the first-season finale of
Syfy's
Defiance
(9/8c) — an election result for town mayor, which comes with various betrayals (at least one if not more fatal), power grabs and mystical sacrifices — but very little feels truly fantastic in this drab Western-with-aliens hybrid.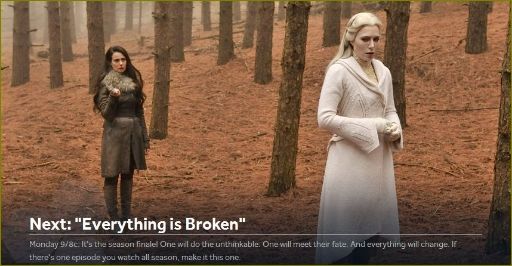 Defiance cast includes Tony Curran, Jaime Murray, Julie Benz, Mia Kirshner, Grant Bowler, Stephanie Leonidas, Graham Greene, Dewshane Williams, Jesse Rath, Justin Rain and Nicole Muñoz.
Defiance
season one finale airs Monday, July 8, 2013 at 9/8C on
Syfy
.
CLICK HERE TO VIEW THE EPISODE TRAILER FOR 'EVERYTHING IS BROKEN.'