Source: Syfy
schedulebot
[
NOTE: Syfy schedule subject to change(s)
]

SHARKATHON - SYFY: SCHEDULE THURSDAY, JULY 11, 2013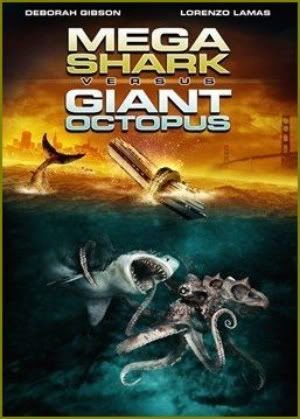 09:00 AM
Mega Shark Vs Giant Octopus
Two colossal prehistoric monsters terrorize the California coast while battling for supremacy of the sea in this salt-water creature feature starring
Lorenzo Lamas
and
Deborah Gibson
.
Cast includes Deborah Gibson, Lorenzo Lamas, Vic Chao, Jonathan Nation, Mark Hengst, Michael Teh and Chris Haley.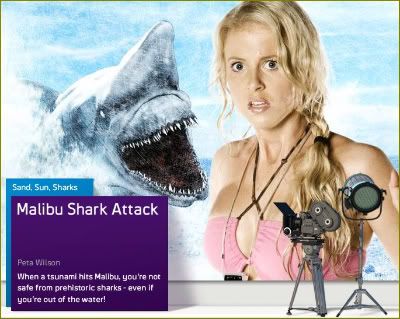 11:00 AM
Malibu Shark Attack
A tsunami brings goblin sharks to Malibu, CA, after a massive wave cuts lifeguards and construction workers off from dry land.
Cast includes Peta Wilson, Renee Bowen, Remi Broadway, Joel Amos Byrnes,
Alphas'
Warren Christie, Nicholas G. Cooper and Sonya Salomaa.
01:00 PM
Sharktopus
A scientist (
Eric Roberts
) working for the military develops a monstrous shark-octopus hybrid, which goes on a killing spree on the resort beaches of Mexico after the mechanism that controls the beast is accidentally destroyed.
Cast includes Eric Roberts, Kerem Bursin, Sara Malakul Lane, Héctor Jiménez, Liv Boughn, Julian Gonzalez Esparza, Blake Lindsey and Peter Nelson.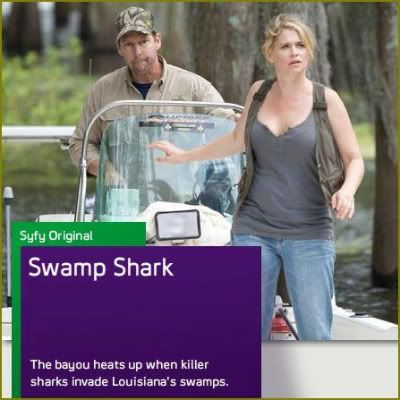 03:00 PM
Swamp Shark
An animal-smuggling deal gone bad puts a man-eating shark into a swampy backwoods river, where it stalks swimmers and boaters and imperils the town's annual Gator Fest.
Cast includes Kristy Swanson, Robert Davi, Richard Tanne, D.B. Sweeney, Jason Rogel, Jeff Chase, Sophie Sinise, Wade Boggs and Christopher Shane Berry.
07:00 PM
Super Shark
A massive, primordial shark goes on a bloody killing spree after being set free during an offshore drilling mishap in this saltwater shocker starring
John Schneider
and
Jimmie "JJ" Walker
. As the tide runs red with blood, marine biologist Kat Carmichael (
Sarah Lieving
) finds her efforts to destroy the giant killing machine repeatedly foiled by shameless corporate shill Roger Wade (
Schneider
) and his scheming sidekick Stewart (
Jerry Lacy
). But when the beast begins using its flippers to walk on land, Kat recruits fearless Skipper Chuck (
Tim Abell
) and wisecracking DJ Dynomite Stevens (
Walker
) to blast it back into the ocean.
Cast includes John Schneider, Sarah Lieving, Tim Abell, Gerald Webb, Jimmie Walker, Jerry Lacy, Ted Monte, Catherine Annette, Trish Cook, Rick Cramer, John L. Curtis, J Ferguson, Michael Gaglio, Rebecca Grant, Blake Griffin, Carolyn Martin, Rya Meyers, Randy Mulkey, Jeff Murray and David Novak.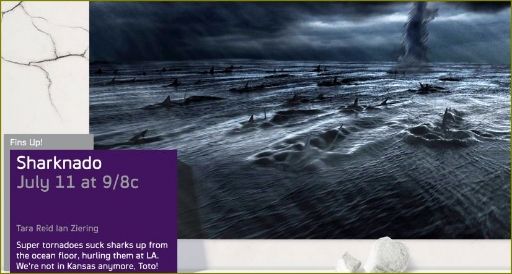 09:00 PM
Sharknado
- * SYFY PREMIERE! *
Check out the Syfy Original Movie, Sharknado, premiering Thursday July 11 at 9/8c.
When a freak hurricane swamps Los Angeles, thousands of sharks terrorize the waterlogged populace, and nature's deadliest killer rules sea, land, and air.
Cast includes Tara Reid, Cassie Scerbo, Ian Ziering, John Heard, Chuck Hittinger, Aubrey Peeples, Jaason Simmons, Adrian Bustamante, Alex Arleo, Diane Chambers, David Bittick, Christopher Wolfe, Connor Weil, Marcus Choi, Sumiko Braun and Neil H. Berkow.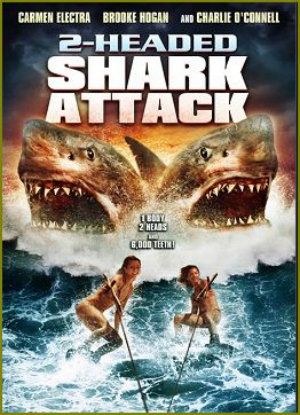 11:00 PM
2-headed Shark Attack
When a college educational ship is sunk by a mutated two-headed shark, the survivors escape to a deserted atoll. But when it starts flooding, the coeds are no longer safe from the double jaws of the monster.
Cast includes Carmen Electra, Charlie O'Connell, Brooke Hogan, Gerald Webb, Mercedes Young, David Gallegos, Geoff Ward, Shannan Stewart, Tihirah Taliaferro, Michael Dicarluccio, Lauren Vera, Marckenson Charles, Ashley Bissing, Corinne Nobili, Benjamin James, Chase Conner, Anna Jackson, Amber English, Collin Carmouze, Casey King Leslie, Morgan Thompson, Anthony E. Valentin and Christina Bach.
01:00 AM
Sharknado
03:00 AM
Shark Zone
Great white sharks terrorize a beach community, and it's up to one man to stop them.
Cast includes Dean Cochran, Alan Austin, Brandi Sherwood, Velizar Binev, Luke Leavitt, Alexander Petrov, Franklin A. Vallette, Martin Dorcey, Jonas Talkington, Stefan Lysenko and Violeta Markovska.