Source:
TV Guide
[follow link for complete column]

TV GUIDE: The Monday Playlist: A Birth Switcheroo, Syfy Cliffhangers, a Major Complication
Jul 8, 2013
by
Matt Roush
...
THAT'S A WRAP
: ... If the fourth-season finale of
Warehouse 13
(10/9c on
Syfy
) delivers a better time, give some credit to guest stars including
Anthony Stewart Head
as the evil alchemist Paracelsus and his
Buffy
cohort
James Marsters
as the newly mortal, and none too happy about it, Professor Sutton. Mortality is on just about everyone's mind, as Paracelsus scrambles to become immortal and take over the
Warehouse
while Myka and Pete fret over her cancer diagnosis and the irony that the one person who may be able to cure her is their new nemesis. This cliffhanger sets up next year's shortened six-episode final season...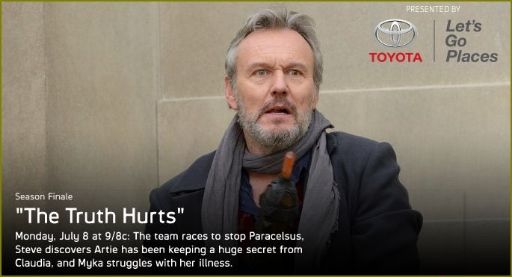 CLICK HERE TO VIEW THE EPISODE TRAILER FOR WAREHOUSE 13'S SEASON FOUR FINALE, 'THE TRUTH HURTS.'