Source:
Syfy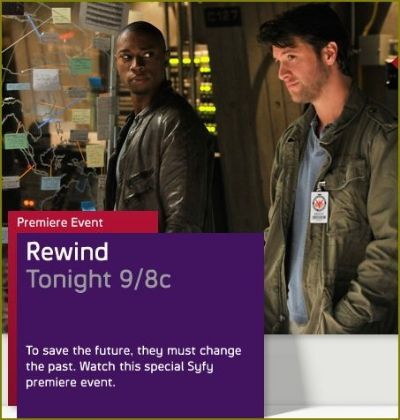 REWIND - SYFY VIDEO: PREVIEW - PREMIERES MONDAY, AUGUST 26, 2013 AT 9/8C
Rewind revolves around a team of military field operatives and civilian scientists who must use untested technology to travel back in time to alter events and change the future — and avoid a devastating terrorist attack.
[
NOTE: This was the pilot for a Syfy 2012 proposed scripted series that appears to have not passed their rigid guidelines for becoming a full fledged series. Click HERE for a Syfy Press Release, and HERE for an article at Blastr.
]
A team of military operatives and civilian scientists travel through time using untested technology in order to alter events and hopefully prevent a devastating terrorist attack.
Cast includes Jeff Fahey,
Hell on Wheels'
Jennifer Ferrin, David Cronenberg, Keisha Castle-Hughes, Robbie Jones, Melanie Scrofano, Skyler Wexler, Chris Ratz,
Chicago Fire's
Shane McRae, Kenneth Welsh, Matthew Bennett, Paulino Nunes, Robert B. Kennedy and Keon Mohajeri.