Source:
AV Club
[follow link for complete column]
AV CLUB: WHAT'S ON TONIGHT? MONDAY, JULY 8, 2013
Defiance ends with the awesome sci-fi spectacle of a mayoral election
by
Todd VanDerWerff
July 8, 2013
TOP PICK
Defiance
(Syfy, 9 p.m.)
It's a jam-packed week in TV land, which means that
Syfy's
weird video-game-television-show hybrid experiment
Defiance
is ending its first season as all science fiction shows must: with a mayoral election. Thrill to the depiction of several alien races casting the vote! Get excited at the prospect of potential electoral skullduggery! Weep when you realize you're more invested in this mayoral election than the one for your own city's mayor! Shake your head as Rowan Kaiser attempts to work in
Alexis de Tocqueville
somehow, because who's read
Alexis de Tocqueville
, are we right?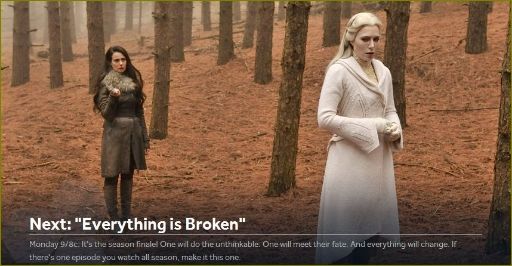 Defiance cast includes Tony Curran, Jaime Murray, Julie Benz, Mia Kirshner, Grant Bowler, Stephanie Leonidas, Graham Greene, Dewshane Williams, Jesse Rath, Justin Rain and Nicole Muñoz.
Defiance
season one finale airs Monday, July 8, 2013 at 9/8C on
Syfy
.
CLICK HERE TO VIEW THE EPISODE TRAILER FOR 'EVERYTHING IS BROKEN.'