Source:
Syfy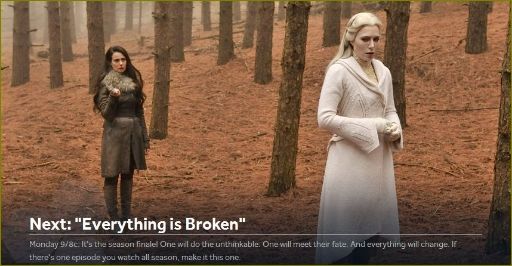 DEFIANCE - SYFY VIDEO: 'EVERYTHING IS BROKEN' EPISODE TRAILER - SEASON FINALE! - AIRS MONDAY, JULY 8, 2013 AT 9/8C
As the votes for Mayor are cast, Amanda and Datak are locked in a bitter struggle. Nolan is violently confronted with his past, while Irisa must decide whether to embrace her destiny.
Amanda (
Julie Benz
) is locked in a bitter power struggle with Datak (
Tony Curran
) as the citizens of
Defiance
cast their votes for mayor. At the same time, Nolan (
Grant Bowler
) is violently confronted by his past; and Irisa (
Stephanie Leonidas
) must decide whether or not to accept her destiny.
Guest stars include Darryl Flatman, Darrell Hicks, Trenna Keating, Perry Mucci, Kevin Shand and Jane Sowerby.