Source:
Syfy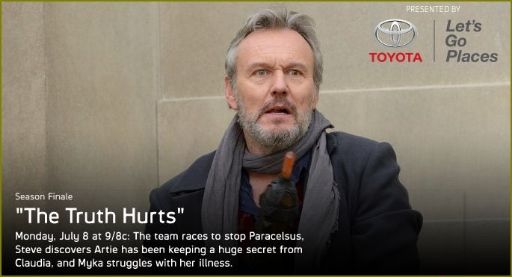 WAREHOUSE 13 - SYFY VIDEO: 'THE TRUTH HURTS' SNEAK PEEK - SEASON FINALE! - AIRS MONDAY, JULY 8, 2013 AT 10/9C
Watch a sneak peek of the season finale of Warehouse 13, Monday 9/8c.
The team must capture Paracelsus (
Anthony Head
) before he achieves immortality, or worse. At the same time, Myka (
Joanne Kelly
) seems to be losing her battle against cancer; and Steve (
Aaron Ashmore
) learns that Artie (
Saul Rubinek
) has been keeping life-changing information under wraps.
Guest stars include
Merlin's
Anthony Head, Juan Carlos Velis and James Marsters.