Source:
TV Worth Watching
[follow link for complete column]

TV WORTH WATCHING: BEST BETS MONDAY, JULY 8, 2013
...
WAREHOUSE 13
Syfy, 10:00 p.m. ET
SEASON FINALE
: My head spins, trying to figure out, with
Syfy
and
USA
shows, what's a season finale, a midseason finale, or just another episode. Last week I got it wrong, prematurely identifying that night's episode as the season ender. It's actually tonight. I think. And if it's the episode I think I previewed, it's got a very clever ending, which puts our heroes on either side of an impenetrable barrier. Sort of like
Under the Dome
.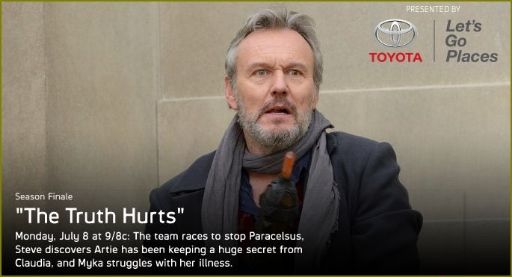 CLICK HERE TO VIEW THE EPISODE TRAILER FOR WAREHOUSE 13'S SEASON FOUR FINALE, 'THE TRUTH HURTS.'