Source:
Syfy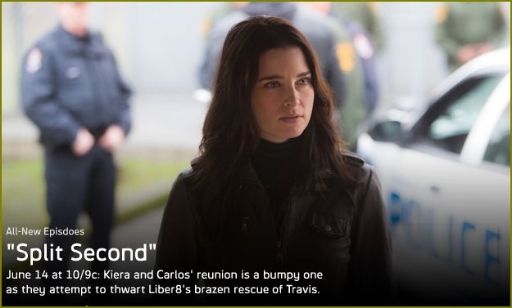 CONTINUUM - SYFY VIDEO: 'SPLIT SECOND' EPISODE TRAILER - AIRS FRIDAY, JUNE 14, 2013 AT 10/9C
Kiera and Carlos's reunion is a bumpy one as they attempt to thwart Liber8's brazen rescue of Travis. Meanwhile, Kellog approaches Alec with an enticing partnership proposition. Continuum, Friday at 10/9c.
Liber8's
hijacking of a prison transfer makes for a bumpy reunion between Kiera and Carlos (
Rachel Nichols
,
Victor Webster
); at the same time, Kellog (
Stephen Lobo
) approaches Alec ((
Erik Knudsen
)) with a tempting partnership proposition.
Guest stars include Nicholas Lea, Keith Dallas, Jill Teed, Darren Shahlavi, Richard Harmon, Brian Markinson and Ian Butcher.