Source:
SciFi and TV Talk
[follow link for complete interview]
SCIFI AND TV TALK: Boss Man: Interview with Continuum's Brian Markinson
06/07/2013
by
Steve Eramo
He traveled to the far-flung Delta Quadrant onboard a Federation starship in
Star Trek: Voyager
, helped maintain law and order in the city of Vancouver as a police chief in
Da Vinci's Inquest
as well as
Da Vinci's City Hall
, and even did a brief tour of duty in the U.S. Marine corps in
NCIS
. You never know where the talented and congenial actor
Brian Markinson
might turn up next, but what audiences can always count on is that he will deliver a convincing and compelling performance. When the casting call went out for the character of Vancouver City Police Inspector Dillon in the popular Sci-Fi TV series
Continuum
, the actor's interest was piqued.
"
I knew of [series creator/executive producer] Simon Barry because we have several mutual friends, and I'd also been hearing about this time traveling series that was going to be made
," says
Markinson
. "
Most of the cast had already read for a myriad of roles and I then literally came in at the 11th hour. I met with [executive producers] Jeff King and Pat Williams, who I knew from [the TV series] Shattered, along with Simon Barry and Jon Cassar, who directed our first two episodes. I read a couple of scenes for them, we talked for a bit, then I left, and the next day I got a call with an offer for the part.
"
So it was a very simple process for me, not unlike auditioning for a guest-star role, and I really enjoyed what I'd read. I thought the script for Continuum was incredibly intelligent and that its success would all come down to its execution, but obviously the person who thought it up had a big brain. Again, I was impressed with the writing, mainly because of the geo-political sort of resonance it had with today's world. It was a different type of Science Fiction. We had a great deal of work to do in the first two episodes and we were fortunate to have Jon Cassar, who comes from the world of 24 and other really big shows, onboard with us. So I just had a lot of optimism in terms of what the future could hold for this project if we got it right...
"
(
From Continuum's 'Second Chances', actors Jennifer Spence, Nicholas Lea and Brian Markinson
)
Continuum
season two airs Friday at 10/9C on
Syfy
.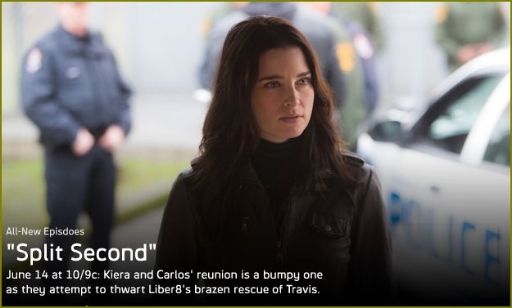 CLICK HERE TO VIEW THE EPISODE TRAILER FOR 'SPLIT SECOND,' AIRING JUNE 14, 2013.