Source: Syfy schedulebot [
NOTE: Syfy schedule subject to change(s)
]

CRANKY CRITTERS MOVIE MARATHON - SYFY: SCHEDULE THURSDAY, JUNE 13, 2013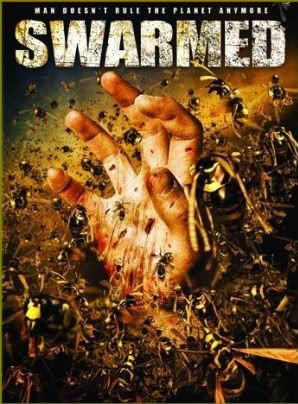 09:00 AM
Swarmed
A small town is attacked by wasps and an experimental pesticide only makes the critters deadlier.
Cast includes
Saving Hope's
Michael Shanks, Carol Alt, Richard Chevolleau, Jonathan Malen, Tim Thomerson, Christopher Bondy and Ellen Dubin.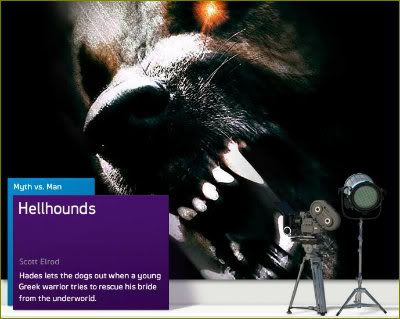 11:00 AM
Hellhounds
A Greek warrior must travel to the Underworld and battle killer hellhounds in order to rescue his murdered bride from the clutches of Hades.
Cast includes Ben Cross, Scott Elrod, Adam Butcher, Amanda Brooks, James A. Woods, Andrew Howard, Olivia Nita, Marius Chivu and Theodor Danetti.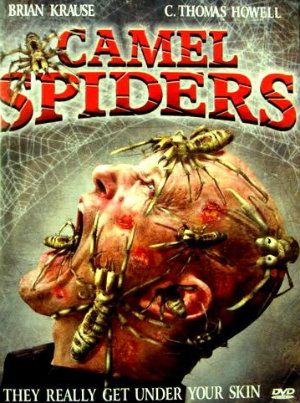 01:00 PM
Camel Spiders
Deadly spiders from the Middle East get transported to the southwest U.S., where they boldly seek human prey.
Cast includes Brian Krause, C. Thomas Howell, Melissa Brasselle, Diana Terranova, GiGi Erneta, Jon Mack, Michael Swan, Hayley Sanchez, Kurt Yaeger, Michael Bernardi, Matthew Borlenghi and Gerald Webb.
03:00 PM
Sand Serpents
American soldiers take on man-eating worms in addition to the Taliban in this rousing sci-fi adventure.
Cast includes Jason Gedrick, Tamara Hope, Elias Toufexis, Sebastian Knapp, Michelle Asante and Chris Jarman.
[Time our for encore performances of
Defiance
and
Warehouse 13
.]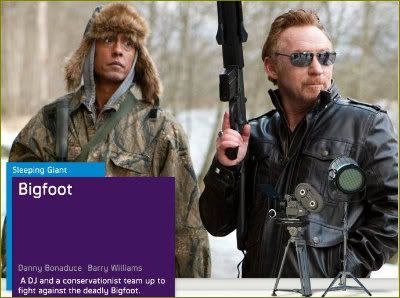 07:00 PM
Bigfoot
When Bigfoot attacks an 80s themed music concert, a concert promoter and a hippie burnout will do anything to protect the "endangered species." Directed by
Bruce Davison
.
Cast includes Sherilyn Fenn, Andre Royo, Alice Cooper, Howard Hesseman, Bruce Davison, Barry Williams, Danny Bonaduce, Billy Idol, Stephanie Sarreal Park, Bob Bragg, Mark Carr, Ulric Dihle, Jason Nash, Noelia Rodriguez and Rosslyn Greer.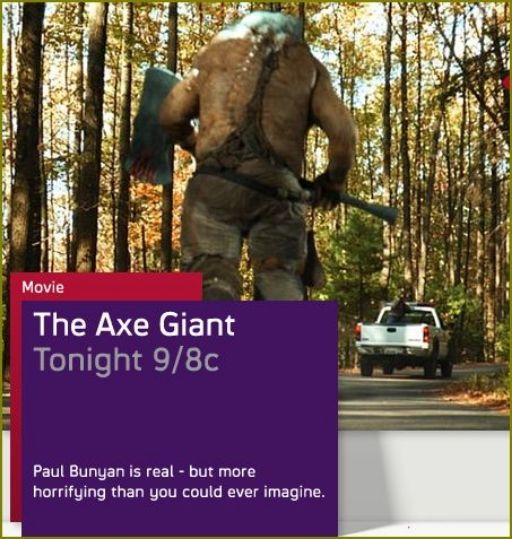 09:00 PM
Axe Giant
- Syfy Premiere!
A dark, contemporary take on the tall tale of Paul Bunyan. Kids at a first-offenders' boot camp discover the legend of lumberjack Paul Bunyan is real, but is much more horrifying than they could have imagined. They incur the wrath of the 15-foot monstrous giant, who was banished from town 100 years ago and thought dead. The kids must team up with the local sheriff to stop Bunyan's new rampage of terror.
Cast includes Joe Estevez, Dan Haggerty, Thomas Downey, Amber Connor, Tim Lovelace, Jesse Kove, Kristina Kopf, Jill Evyn, Clifton Williams and Victoria Ramos.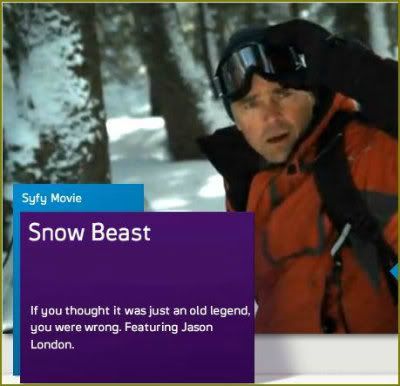 11:00 PM
Snow Beast
A scientist (
John Schneider
) and his research team try to evade a mysterious predator that appears to be responsible for a series of deaths after they travel to the Canadian wilderness to study a species of lynx, which have mysteriously disappeared from their territory.
Cast includes John Schneider, Jason London, Danielle Chuchran, Paul D. Hunt, Kari Hawker, Cory Anderson and Shawn Carter.
01:00 AM
Axe Giant