Source:
SciFi and TV Talk
[follow link for complete interview]
SCIFI AND TV TALK: Tech Support: Interview with Continuum's Erik Knudsen
05/29/2012
by
Steve Eramo
At the age of 10,
Erik Knudsen
played on a children's hockey team that was chosen to appear in a
Visa
TV commercial. Little did the actor realize the impact that this event would later have on his life. "
I loved it and I always wanted to act after that
," he says. "
My parents, of course, were always telling me to have a back-up plan just in case things didn't work out
.
"
When I was younger I wanted to be a policeman. I thought that that would be an awesome job and still do, but unfortunately I don't think I have quite what it takes. I'm 5' 8" and 125 pounds, so it would probably be kind of difficult. I always wanted to be an actor, though, and felt that if I had a back-up, it would allow me to give up too easily on my dream. So I don't have a back-up right now. I'm just concentrating on my acting and would love to do that for the rest of my life, and maybe direct down the road.
"
In
Knudsen's
case, hard work and perseverance have certainly paid off in the form of several feature film and TV credits. Currently, the affable and talented actor is playing Alec Sadler in the hit Canadian TV Sci-Fi/Police Drama
Continuum
. When Kiera Cameron (
Rachel Nichols
), a Vancouver CPS (City Protective Services) officer in the year 2077, is unexpectedly sent back in time to Vancouver 2012 along with a group of convicted terrorists, the technology in the future suit she is wearing manages to connect with a frequency used by Alec...
... As his on-screen relationship is taking time to develop with the show's leading lady
Rachel Nichols
, the actor's off-screen rapport has solidified much quicker. "
Rachel Nichols is incredible
," says
Knudsen
. "
It's always scary settling into a new show with a new cast because you don't know what everyone is going to be like, but the whole Continuum cast is fantastic. Rachel is the coolest person to be working with on this show. She's like one of the guys; Rachel is drama-free, she loves football, and coming into this show she's learned to really love hockey, which is terrific.
"
So Rachel is perfect and a pleasure to work with. I mean, she comes in on her day off just to help me out by doing her character's off-screen dialogue. It's difficult because we're never face-to-face; I'm always in the barn and talking to her through a blue tooth. So we don't get the usual actor interaction that you'd normally get, but we help out one another by reading off-camera for each other in order to develop the flow of the scenes and that care in the lines instead of just talking to one of the crew who's reading the [off-camera] dialogue. At first we were concerned about how things would all play out if that was the case, but I'm happy to say it's been fine...
"
Continuum
season two airs Friday at 10/9C on
Syfy
.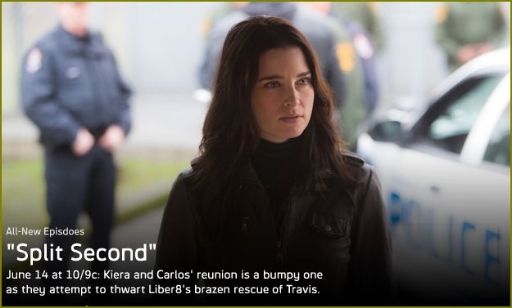 CLICK HERE TO VIEW THE EPISODE TRAILER FOR 'SPLIT SECOND,' AIRING JUNE 14, 2013.