Source: Syfy
schedulebot
[
NOTE: Syfy schedule subject to change(s)
]
SUPERNATURAL MOVIE MARATHON - 31 DAYS OF HALLOWEEN - SYFY: SCHEDULE THURSDAY, OCTOBER 11, 2012
09:30 AM
Pterodactyl
A dormant volcano deep with the Turkish forest holds within it a deadly secret. Perfectly preserved, a nest of pterodactyl eggs are ready to hatch.
Cast includes Cameron Daddo, Coolio, Amy Sloan, George Calil, Ivo Cutzarida, Steve Braun, Mircea Monroe and
Stargate Atlantis'
David Nykl.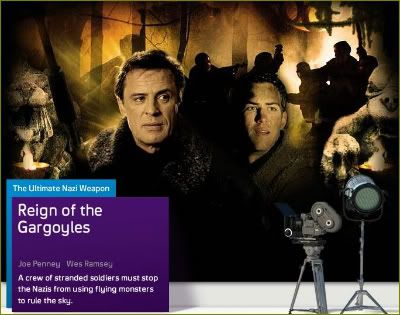 11:30 AM
Reign Of The Gargoyles
Wes Ramsey
and
Joe Penny
star in this World War II monster movie, in which the Nazis bring stone gargoyles to life to combat U.S. forces.
Cast includes Joe Penny, Wes Ramsey, Sean Mahon, Julia Rose, Billy Lush and John Ashton.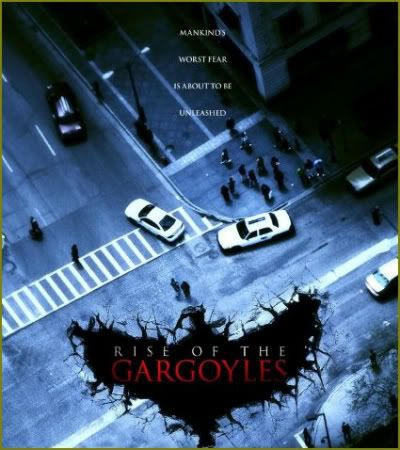 01:30 PM
Rise Of The Gargoyles
American professor Jack Richmond's (
Eric Balfour
) theories regarding pagan architecture leave him somewhat of a joke in the academic community. However, he is forced to put his pride aside and hurry to Paris before an ancient gargoyle destroys the city.
Cast includes
Haven's
Eric Balfour, Caroline Néron, Justin Salinger, Ifan Huw Dafydd, Nick Mancuso, Tanya Clarke and Constantin Barbulescu.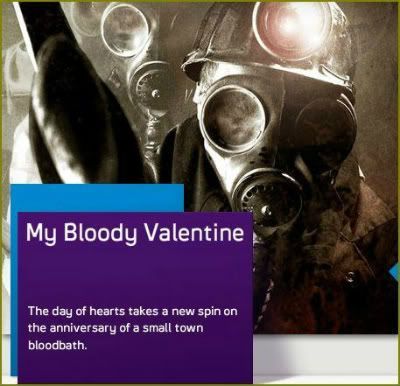 03:30 PM
My Bloody Valentine
Remake of the 1981 slasher classic about a homicidal maniac terrorizing a small mining town on Valentine's Day.
Cast includes
Supernatural's
Jensen Ackles, Jaime King, Kerr Smith, Betsy Rue, Edi Gathegi, Tom Atkins, Kevin Tighe and Megan Boone.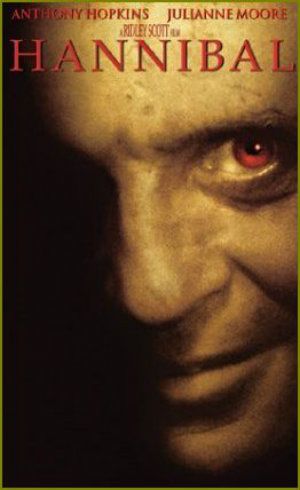 05:30 PM
Hannibal
- *
Syfy Premire!
*
Psychiatrist, connoisseur, bon vivant, twisted brain: Hannibal Lecter (
Anthony Hopkins
) returns to the screen after a ten-year absence in this sequel to
Jonathan Demme's
award-winning
The Silence of the Lambs
. A decade has passed since FBI trainee Clarice Starling (
Julianne Moore
, ably assuming
Jodie Foster's
old role) first interviewed Lecter and gleaned enough clues from their enigmatic conversations to capture murderer Jame Gumb.
Cast includes Anthony Hopkins, Julianne Moore, Gary Oldman, Ray Liotta, Frankie Faison, Giancarlo Giannini, Francesca Neri and Zeljko Ivanek.
08:00 PM
Shutter Island
U.S. Marshal Teddy Daniels (
Leonardo DiCaprio
) investigates the disappearance of a killer at a mental asylum located on an island currently in the path of a major hurricane. As Teddy's investigation continues, he suspects that the asylum's doctors are performing dangerous experiments and he begins to fear that there might be a supernatural presence on the island. Directed by
Martin Scorsese
.
Cast includes Leonardo DiCaprio, Mark Ruffalo, Ben Kingsley, Max von Sydow, Michelle Williams, Emily Mortimer, Patricia Clarkson, Jackie Earle Haley and Ted Levine.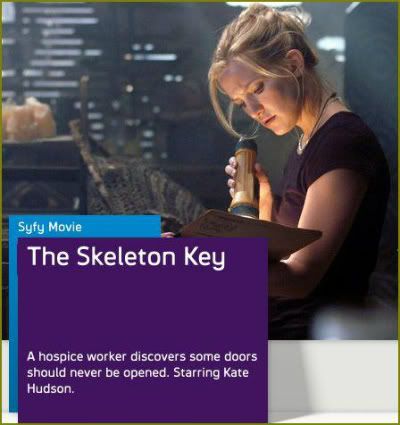 11:00 PM
The Skeleton Key
After New Orleans hospice worker Caroline (
Kate Hudson
) answers a help wanted ad, she finds herself working as the live-in caretaker of Ben Devereaux (
John Hurt
), a stroke victim who has lost his ability to speak. Ben's wife, Violet (
Gena Rowlands
), presents Caroline with a skeleton key to open any door in the house with the exception of one, which she claims she has never been able to open. But curiosity gets the best of her, and Caroline opens the door to find a wealth of materials representing the old house's history of hoodoo.
Cast includes Kate Hudson, Gena Rowlands, John Hurt, Peter Sarsgaard, Joy Bryant, Maxine Barnett, Fahnlohnee R. Harris and Marion Zinser.
01:00 AM
Wes Craven Presents: They
"
They
" are scary creatures that haunted the childhood dreams of a psychology student (
Laura Regan
)---and "
They
" are back in this standard thriller.
Cast includes Laura Regan, Marc Blucas, Ethan Embry, Desiree Zurowski, Mark Hildreth and Jodelle Ferland.
03:00 AM
They Wait
Atmospheric ghost story about the mother (
Jaime King
) of a young Chinese-Canadian boy who must unravel a mystery to save his soul from evil spirits.
Cast includes Jaime King, Terry Chen, Pei-pei Cheng, Henry O, Regan Oey, Colin Foo, Chang Tseng and Michael Biehn.