Source: TCM (Turner Class Movies)
schedulebot
CLASSIC HORROR MOVIE MARATHON - TCM: SCHEDULE WEDNESDAY, OCTOBER 10, 2012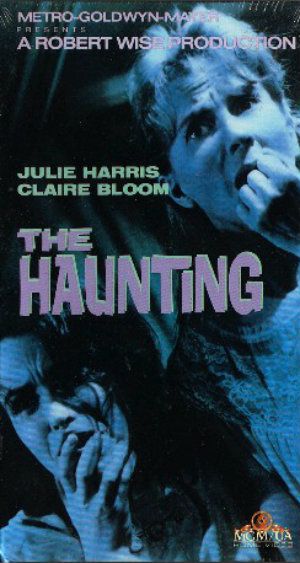 08:00 PM
The Haunting
(1963)
A team of psychic investigators moves into a haunted house that destroys all who live there.
Cast includes Julie Harris, Claire Bloom, Richard Johnson, Russ Tamblyn, Fay Compton, Rosalie Crutchley, Lois Maxwell, Valentine Dyall, Diane Clare and Ronald Adam.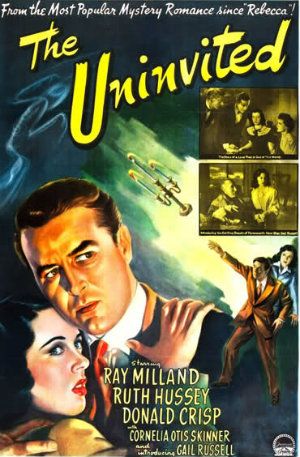 10:00 PM
The Uninvited
(1944)
A brother and sister buy a house with a ghostly secret. Eerie ghost suspenser about
Gail Russell
disturbed by dead mother's specter;
Ray Milland
and
Ruth Hussey
, new owners of haunted house, try to solve mystery. No trick ending in this ingenious film, which introduced
Victor Young's
melody "Stella by Starlight." Spooky cinematography by
Charles Lang, Jr
. Scripted by
Dodie Smith
and
Frank Partos
, from
Dorothy Macardle's
novel.
Cast includes Ray Milland, Ruth Hussey, Donald Crisp, Cornelia Otis Skinner, Dorothy Stickney, Barbara Everest, Alan Napier and Gail Russell.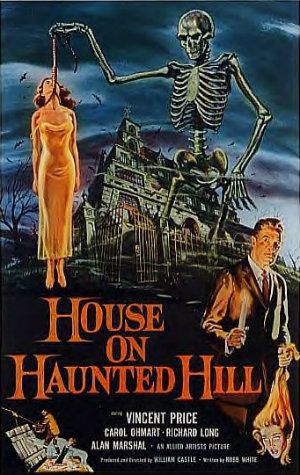 12:00 AM
House On Haunted Hill
(1959)
A millionaire offers total strangers a fortune to spend the night in a haunted house. Zillionaire
Vincent Price
offers group of people $10,000 each if they'll spend a night in spooky old mansion with murder-laden history; he even provides loaded guns as party favors. Campy fun; probably the
William Castle
film which holds up best on TV.
Cast includes Vincent Price, Carol Ohmart,
The Big Valley's
Richard Long, Alan Marshal, Carolyn Craig, Elisha Cook Jr., Julie Mitchum, Leona Anderson and Howard Hoffman.
01:30 AM
Dead of Night
(1945)
Guests at a country estate share stories of the supernatural. Classic chiller of gathering at a country house, where guests trade supernatural stories. One of them (
Mervyn Johns
) has been having a nightmare that now seems to be coming true; final sequence with
Michael Redgrave
as a schizophrenic ventriloquist is a knockout.
Cast includes Mervyn Johns, Roland Culver, Michael Redgrave, Mary Merrall, Googie Withers, Frederick Valk, Anthony Baird, Sally Ann Howes, Robert Wyndham and Judy Kelly.
03:30 AM
The Innocents
(1961)
Jack Clayton
directed this version of
Henry James'
ghost story "
The Turn of the Screw
." A governess convinces herself the children in her charge are haunted.
Cast includes Isla Cameron, Eric Woodburn, Pamela Franklin, Martin Stephens, Deborah Kerr, Clytie Jessop, Megs Jenkins, Peter Wyngarde, Michael Redgrave.
05:15 AM
13 Ghosts
(1960)
A family inherits a house haunted by 13 ghosts and a living killer. Typically tongue-in-cheek
William Castle
spook opera, about nice, all-American family (with children named Buck and Medea!) that inherits a haunted house. Plenty of chills and chuckles, with
Margaret Hamilton
[
Wizard of Oz
] cleverly cast as sinister housekeeper.
Cast includes Charles Herbert, Jo Morrow, Martin Milner, Rosemary DeCamp, Donald Woods, Margaret Hamilton and John Van Dreelen.