Source: Syfy
schedulebot
[
NOTE: Syfy schedule subject to change(s)
]
PHANTASMIC MOVIE MARTHON - 31 DAYS OF HALLOWEEN - SYFY: SCHEDULE SATURDAY, OCTOBER 13, 2012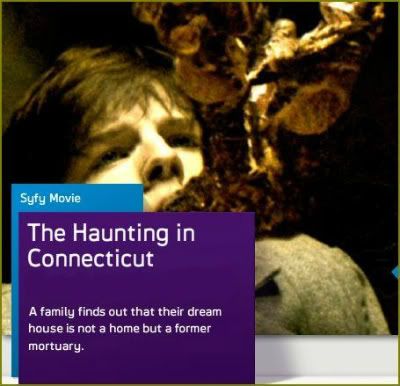 09:00 AM
The Haunting In Connecticut
When a family moves into a converted funeral home and falls under supernatural attack, desperate mother Sarah (
Virginia Madsen
) struggles to free her family from the grip of evil. Sarah and Peter Campbell have just moved to Connecticut with their young son Matt. When a malevolent otherworldly force begins to take control of the family, an enigmatic priest intervenes.
Cast includes Virginia Madsen, Kyle Gallner, Elias Koteas, Ty Wood, Martin Donovan, Sophi Knight, Amanda Crew, Erik J. Berg and John Bluethner.
11:00 AM
The Amityville Horror
(2005)
The unimaginative remake of the 1979 chiller stars
Ryan Reynolds
and
Melissa George
as the new owners of a haunted house on Long Island.
Cast includes Ryan Reynolds, Melissa George, Jesse James, Jimmy Bennett, Chloë Grace Moretz, Rachel Nichols, Philip Baker Hall, Isabel Conner and Brendan Donaldson.
01:00 PM
The Amityville Horror
(1979)
James Brolin
and
Margot Kidder
in an adaptation of
Jay Anson's
bestseller about a family tormented by the supernatural.
Cast includes James Brolin, Margot Kidder, Rod Steiger, Don Stroud, Murray Hamilton, John Larch, Natasha Ryan, K.C. Martel, Meeno Peluce, Michael Sacks and Helen Shaver.
03:00 PM
Ghost Town
College students encounter deadly outlaw spirits when their bus breaks down in a real ghost town.
Cast includes Jessica Rose, Randy Wayne, Gil Gerard, Billy Drago, Cian Barry, Joey Ansah and Annabelle Wallis.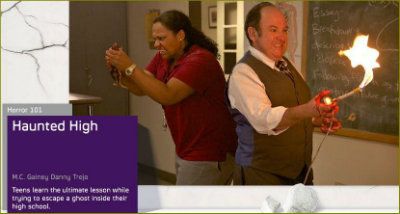 05:00 PM
Haunted High
A dead demonic headmaster haunts a New England private school.
Cast includes M.C. Gainey, Lauren Pennington, Shawn C. Phillips, Danny Trejo, Jonathan Baron, Gabe Begneaud, Charisma Carpenter, Marc Donato, Sergio Figueroa, Stephanie Fischer, Griff Furst, Dana Michelle Gourrier, Danielle Greenup and Mike Kimmel.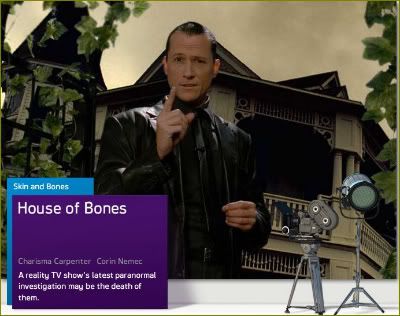 07:00 PM
House Of Bones
A dead demonic headmaster haunts a New England private school.
Cast includes
Angel's
Charisma Carpenter, Marcus Lyle Brown, Rick Robinson Jr., Collin Galyean, Kyle Russell Clements, Stephanie Honore and
Stargate SG-1's
Corin Nemec.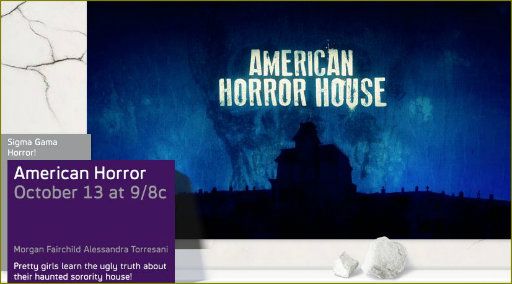 09:00 PM
American Horror House
*
Syfy Premiere!
*
Ghosts invade a sorority house on Halloween night, and that isn't the only problem faced by a group of pretty college coeds when a housemother with an ax to grind goes on a killing spree.
Cast includes
Caprica's
Alessandra Torresani, Jackie Tuttle, Dave Randolph-Mayhem Davis, Morgan Fairchild, Carol Jean Wells, Salina Duplessis, Cameron Deane Stewart, Ruby Lou Smith, Isabel Cueva, Sydney Spies, Jennie Kamin, Ashton Leigh, Ramona Tyler, Cait Taylor, Donna Duplantier, Jaren Mitchell, Gralen Bryant Banks and Skipper Landry.
11:00 PM
The Amityville Horror
(1979)
01:00 AM
American Horror House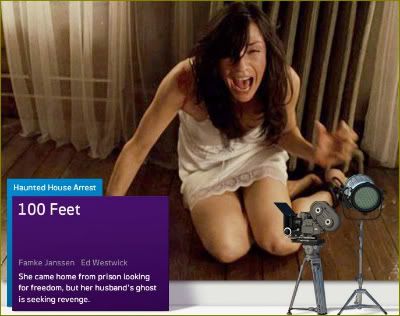 03:00 AM
100 Feet
Famke Janssen
stars in this haunted-house tale about a woman who is sentenced to house arrest after she killed her abusive spouse in self-defense. Written and directed by
Eric Red
.
Cast includes Famke Janssen, Bobby Cannavale, Ed Westwick, Michael Paré, Patricia Charbonneau and John Fallon.