Source: Syfy
schedulebot
[
NOTE: Syfy schedule subject to change(s)
]
SUPERNATURAL MOVIE MARATHON - 31 DAYS OF HALLOWEEN - SYFY: SCHEDULE SUNDAY, OCTOBER 14, 2012
09:30 AM
The Messengers
Semi-creepy chiller about ghosts haunting a teen (
Kristen Stewart
) who has moved from Chicago to rural North Dakota with her family.
Cast includes Kristen Stewart, Dylan McDermott, Penelope Ann Miller, John Corbett, Evan Turner, William B. Davis and Jodelle Ferland.
11:30 AM
Scream Of The Banshee
In "
Scream of the Banshee
," when a college professor opens a mysterious and ornate box discovered hidden in the tunnels under her university, she and her students hear the horrifying scream of a bloodthirsty Banshee. Everyone who hears the scream is fated to die a strange and terrible death. Now the professor, her daughter and a few of her students must try to stop the Banshee.
Cast includes Lance Henriksen, Lauren Holly, Monica Acosta, Eric F. Adams, Marcelle Baer, Edrick Browne, Leanne Cochran, Thomas C. Daniel and Todd Haberkorn.
01:30 PM
The Village
Residents of a 19th-century town are terrorized by the mysterious creatures that lurk in the nearby woods.
Cast includes Bryce Dallas Howard, Joaquin Phoenix, Adrien Brody, William Hurt, Sigourney Weaver, Brendan Gleeson, Cherry Jones, Celia Weston, John Christopher Jones, Frank Collison, Jayne Atkinson and Judy Greer.
04:00 PM
The Devil's Advocate
Al Pacino
has a field day playing Lucifer disguised as the head of a law firm in this thriller about a lawyer (
Keanu Reeves
) who doesn't realize his new boss is a real demon.
Cast includes Keanu Reeves, Al Pacino, Charlize Theron, Jeffrey Jones, Judith Ivey, Connie Nielsen, Craig T. Nelson,
Castle's
Ruben Santiago-Hudson, Debra Monk and George Wyner.
07:00 PM
Jeepers Creepers 2
Writer-director
Victor Salva'
s inevitable follow-up to the surprise success
JEEPERS CREEPERS
(2001) picks up immediately after the events of the first film, in which a mysterious demon — the Creeper — emerges from its cyclical hibernation to devour unwary country folk.
Cast includes Ray Wise, Jonathan Breck, Garikayi Mutambirwa, Eric Nenninger, Nicki Aycox, Travis Schiffner, Lena Cardwell and Billy Aaron Brown.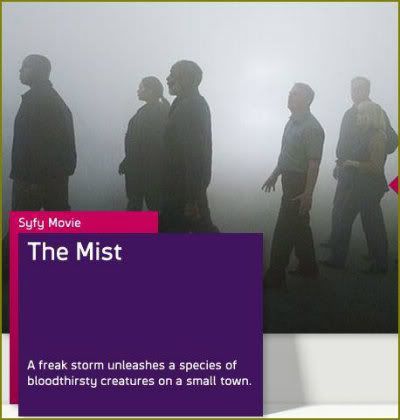 09:00 PM
The Mist
Stephen King's
apocalyptic chiller about a group of people who are trapped in a grocery store by a strange mist that unleashes an army of deadly creatures.
Cast includes Thomas Jane, Marcia Gay Harden, Laurie Holden, Andre Braugher, Toby Jones, William Sadler and
Being Human's
Sam Witwer.
11:30 PM
Mothman
A tragic prank and its subsequent cover-up come back to haunt five childhood friends when they reunite a decade later in their hometown.
Cast includes
Stargate Atlantis'
Jewel Staite, Connor Fox, Susie Abromeit, Michael Aills, Matty Ferraro, Jerry Leggio, T.W. Leshner, Jessica Erin Sylvia, Monica Acosta, Alex Hardee and Sam Medina.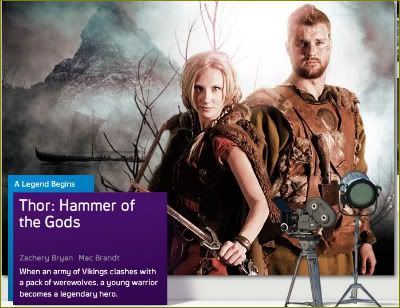 01:30 AM
Thor: Hammer Of The Gods
A Viking wages war against supernatural foes.
Cast includes Zachery Ty Bryan, Mac Brandt, Daz Crawford, Nicole Ennemoser, Rafael Jordan, John Laskowski, Hristo Mitzkov and Melissa Osborne.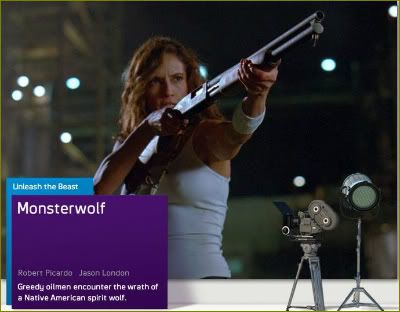 03:30 AM
Monsterwolf
A monstrous, seemingly unstoppable wolf wages an assault on an unscrupulous oil company's staff.
Cast includes Leonor Varela,
Stargate Atlantis'
Robert Picardo, Marc Macaulay, Steve Reevis, Jason London, Jon Eyez and Griff Furst.