Source: TCM (Turner Classic Movies)
schedulebot
RAY HARRYHAUSEN MOVIE MARATHON - TCM: SCHEDULE SUNDAY, OCTOBER 28, 2012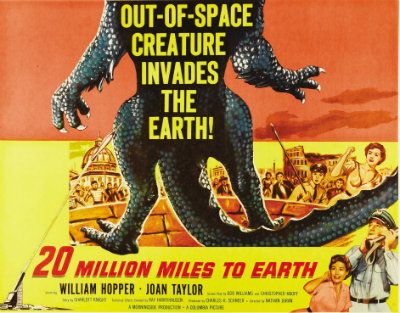 08:00 PM
20 Million Miles To Earth
(1957)
A crashed spaceship unleashes a rapidly growing monster from Venus. First spaceship to Venus crashes into the sea off Sicily, with two survivors: pilot
William Hopper
and a fast-growing Venusian monster that just wants to be left alone (but fights back when frightened). Climax takes place in the Colosseum in Rome. Intelligent script, fast pace, and exceptional special effects by
Ray Harryhausen
make this one of the best monster-on-the-loose movies ever.
Cast includes William Hopper, Joan Taylor, Frank Puglia, John Zaremba, Thomas Browne Henry, Tito Vuolo, Jan Arvan, Arthur Space and Bart Braverman.
09:30 PM
Earth Vs. The Flying Saucers
(1956)
Space invaders attack the nation's capital. Matter-of-fact presentation gives tremendous boost to familiar storyline (alien invaders order us to surrender peaceably--or else). Literate dialogue, subdued performances, and solid
Ray Harryhausen
effects make this a winner that belies its B origins nearly every step of the way.
Cast includes Hugh Marlowe, Joan Taylor, Donald Curtis, Morris Ankrum, John Zaremba, Thomas Browne Henry, Grandon Rhodes and Larry J. Blake.
11:00 PM
First Men in the Moon
(1964)
A scientist's experimental space craft puts him in the path of an intergalactic invasion.
Cast includes Edward Judd, Martha Hyer, Lionel Jeffries, Miles Malleson, Norman Bird, Gladys Henson, Hugh McDermott and Betty McDowall.