Source: TCM (Turner Classic Movies)
schedulebot
CLASSIC HORROR MOVIE MARATHON - TCM: SCHEDULE WEDNESDAY, OCTOBER 24, 2012
08:00 PM
The Raven
(1963)
A widowed sorcerer discovers his late wife is alive and living with his mortal enemy.
Cast includes Vincent Price, Peter Lorre, Boris Karloff, Hazel Court, Olive Sturgess, Jack Nicholson, Connie Wallace, William Baskin and Aaron Saxon.
09:45 PM
Murders in the Rue Morgue
(1932)
A mad doctor tries to mix human and gorilla blood with deadly results. Expressionistic horror film based on Poe story, with
Bela Lugosi
as fiendish Dr. Mirakle, with eyes on lovely
Sidney Fox
as the bride of his pet ape in 1845 Paris.
Cast includes Sidney Fox, Bela Lugosi, Leon Ames, Bert Roach, Betty Ross Clarke, Brandon Hurst, D'Arcy Corrigan, Noble Johnson and Arlene Francis.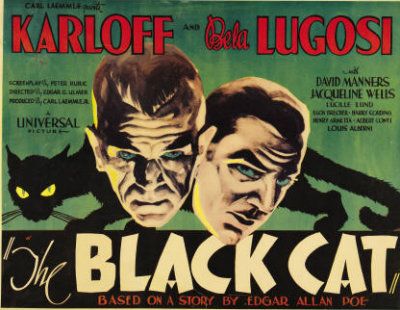 11:00 PM
The Black Cat
(1934)
A Satanist faces off with the vengeful man whose wife and daughter he has stolen. Polished horror film with bizarre sets, even more bizarre plot. Confrontation of architect/devil-worshiper
Boris Karloff
and doctor
Bela Lugosi
is still fascinating. The first of Boris and Bela's many teamings. Look fast for
John Carradine
as an organist at Satanic Mass. Film bears absolutely no resemblance to eponymous
Edgar Allan Poe
tale.
Cast includes Boris Karloff, Bela Lugosi, David Manners, Julie Bishop, Egon Brecher, Harry Cording, Lucille Lund, Henry Armetta and Albert Conti.
12:30 AM
The Fall Of The House Of Usher
(1949)
An old friend tries to keep Roderick Usher from succumbing to the family curse.
Cast includes Gwen Watford, Kay Tendeter, Irving Steen, Vernon Charles, Connie Goodwin, Gavin Lee, Keith Lorraine, Lucy Pavey, Tony Powell-Bristow and Robert Wolard.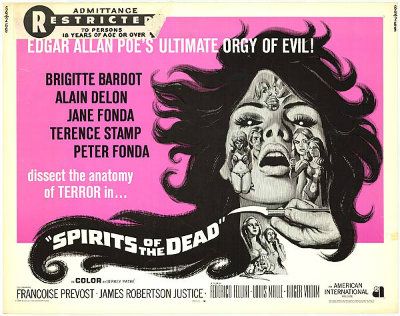 02:15 AM
Spirits of the Dead
(1969)
This film comprises three supernatural tales based on the works of Edgar Allan Poe.
Cast includes Brigitte Bardot, Alain Delon, Jane Fonda, Terence Stamp, James Robertson Justice, Salvo Randone, Françoise Prévost and Peter Fonda.
04:30 AM
Dead Men Walk
(1943)
A small-town doctor's twin returns from the grave seeking vengeance.
George Zucco
plays brothers, one good, one evil, in this standard low-budget vampire tale--but it's hard to dismiss any film with
Dwight Frye
as a maniacal assistant.
Cast includes George Zucco, Mary Carlisle, Nedrick Young, Dwight Frye, Fern Emmett, Robert Strange, Hal Price and Sam Flint.