Source:
SciFi and TV Talk
[follow link for complete interview]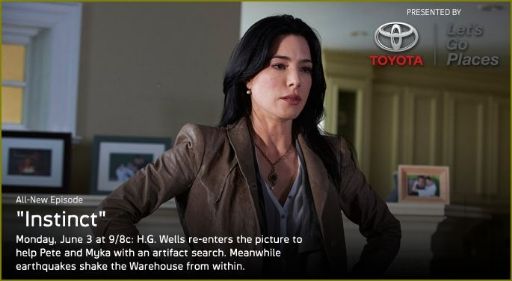 SCIFI AND TV TALK: Caretaker-in-Training: Interview with Warehouse 13's Allison Scagliotti
06/02/2013
by
Steve Eramo
Everyone has a bad day at work every now and then.
Warehouse 13's
Claudia Donovan has one of those days in the show's fourth season mid-year cliffhanger
We All Fall Down
. Her boss and mentor Artie Nielsen is suffering the aftereffects of using an Artifact to right a wrong. His unstable mental state leads him to unleash a plague on humankind, and along the way, Artie kills Leena.
In order to purge the evil within him, Claudia must stab Artie with Francesco Borgia's dagger. Sadly, his guilt over murdering Leena leaves Artie in a coma, and Claudia has to save him in the Season 4.5 premiere
The Living and the Dead
.
"
This was a very sensitive episode and we all had a great deal of emotional baggage to play, which is always challenging
," notes actress
Allison Scagliotti
, who plays Claudia. "
For me, what sticks out as the most memorable scene is when Claudia finally discovers Artie [Saul Rubinek] in the deepest recesses of his mind, which is represented by Leena's B&B. It was extremely moving to see Genelle Williams [Leena] sort of giving her swan song, because she's been such a beloved member of the Warehouse family from the beginning, and from before I was part of the fold.
"
She's a wonderful human being and a fantastic actress. We all loved her character of Leena and no one wanted to see her go. As we were filming, I had the chance to watch Saul reveal Artie's despair and agony over what he did, and to see the tears fall from Genelle's eyes as she played Leena was incredibly powerful and moving. I remember as I had to play that moment of reacting to Artie's anger at Claudia, I didn't have to work that hard; it was just overwhelmingly sad...
"
Warehouse 13
airs Monday at 10/9C on
Syfy
.
CLICK HERE TO VIEW THE EPISODE TRAILER FOR 'INSTINCT,' AIRING JUNE 3, 2013.