Source: Syfy
schedulebot
[
NOTE: Syfy schedule subject to change(s)
]

FANTASY MOVIE MARATHON - SYFY: SCHEDULE SATURDAY, JUNE 8, 2013
09:00 AM
Dragon Dynasty
He was the first European explorer to reach China. And if two dragons have their way, he'll be the last.
Cast includes Federico Castelluccio, Aaron Hendry, Dion Basco, Peter Kwong, James Hong and
Castle's
Stana Katic.
11:00 AM
Dragon Wars
A reporter finds himself thrust into a battle against fire-breathing dragons that attack modern-day Los Angeles in this goofy creature feature.
Cast includes Jason Behr, Jesse Jam Miranda, Amanda Brooks, Robert Forster, Chris Mulkey and Elizabeth Peña.
01:00 PM
Fire And Ice
An ice dragon is summoned to save a kingdom from a fire dragon in this fantasy tale.
Cast includes Amy Acker, Tom Wisdom, John Rhys-Davies, Arnold Vosloo, Razvan Vasilescu, Oana Pellea, Cabral Ibacka and Ovidiu Niculescu.
03:00 PM
Flying Monkeys
A teenage girl thinks that the monkey she owns is her innocent pet, but it turns out to be something much more dangerous - an evil shapeshifter capable of unthinkable acts no loyal pet would ever be able to perform.
Cast includes Vincent Ventresca, Electra Avellan, Alvin Chon, Christopher Matthew Cook, Tyler Forrest, Mike Kimmel, David Kranig, Maika Monroe, Lee Nguyen, Brian Oerly, Michael Papajohn, Dane Rhodes, Sydney Trager, Jackie Tuttle, Zac Waggener, Ricky Wayne and Boni Yanagisawa.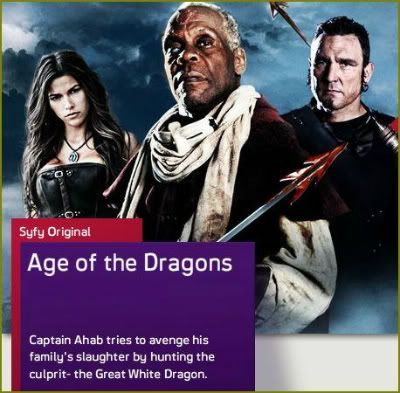 05:00 PM
Age Of The Dragons
Danny Glover
stars as an obsessed Ahab who seeks revenge on the fire-breathing dragon that killed his family and left him horribly scarred in this re-imagining of the classic novel "
Moby Dick
."
Cast includes Danny Glover, Vinnie Jones, Corey Sevier, Sofia Pernas, Larry Bagby, Kepa Kruse and David Morgan.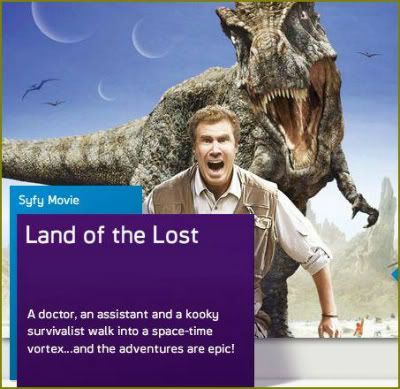 07:00 PM
Land Of The Lost
Discredited scientist Dr. Rick Marshall (
Will Ferrell
) proves his outrageous theories on time travel are true, but in the process he gets stranded with his partners in a strange world full of unusual creatures. His loyal research assistant Holly (
Anna Friel
) and firearms enthusiast Will (
Danny McBride
) help Marshall befriend a monkey-like beast named Chaka (
Jorma Taccone
) in an attempt to get back home.
Cast includes Will Ferrell, Anna Friel, Danny McBride, Jorma Taccone and John Boylan.
[Time out for NEW Saturday series,
Sinbad
at 8/7C, and
Primeval: New World
at 9/8C.]
11:00 PM
Rise Of The Dinosaurs
While returning from a military expedition to rescue a beautiful kidnapped scientist an elite commando unit crash lands in a dense, remote tropical jungle. The commandos find themselves cut off from radio contact in a lost world populated by dinosaurs. Hunted on all sides and with their ammunition dwindling they must find a way to escape and return to civilization before becoming prey to the prehistoric predators.
Cast includes Gary Stretch,
Stargate SG-1's
Corin Nemec, Vernon Wells, Michael Worth, Natascha Berg, Alicia Ziegler, Israel Sáez de Miguel, Adrian Clissold, Philip Coc, Ganney Dortch, Aaron Erskine, John Frear, Stevie Hack, Kameisha Harris, Adran Ramirez, Jason Taylor and Berne Velasquez.
01:00 AM
Riverworld - Part One
Tahmoh Penikett
and
Alan Cummings
star in this adaptation of
Philip Jose Farmer's
novel about a group of people who die and awaken in a strange land covered almost entirely in rivers.
Matt (
Tahmoh Penikett
), an American journalist, and his fiancee, Jessie (
Laura Vandervoort
), are killed in an explosion, but reawaken in this unusual afterlife. Everyone who has ever lived on Earth has been resurrected simultaneously in this strange new world. Determined to find Jessie, Matt joins forces with an intrepid crew, including a 13th century female warrior and riverboat captain Mark Twain (
Mark Deklin
). As they embark upriver, their adventure begins, all the while tracked by the watchful eye of a mysterious alien force.
Cast includes
Battlestar Galactica's
Tahmoh Penikett, Mark Deklin,
Sanctuary's
Peter Wingfield, Jeananne Goossen, Alan Cumming, Laura Vandervoort, Chiara Zanni,
Battlestar Galactica's
Alessandro Juliani; and
Stargate
(SG1/SGA/SGU) alums Aleks Paunovic, Kwesi Ameyaw, Michael Adamthwaite, Alex Zahara, Terry Chen and Marilyn Norry.
03:00 AM
Riverworld - Part Two