Source: Syfy
schedulebot
[
NOTE: Syfy schedule subject to change(s)
]

SCIFI MOVIE MARATHON - SYFY: SCHEDULE THURSDAY, JUNE 6, 2013
09:30 AM
Pandorum
After awakening from hypersleep with no memory of their mission, astronauts Lt. Payton (
Dennis Quaid
) and Cpl. Bower (
Ben Foster
) discover that the 60,000 passengers aboard their vast spacecraft have vanished without a trace. Little do they realize that they will soon be fighting for the survival of the entire human race.
Cast includes Dennis Quaid, Ben Foster, Cam Gigandet, Antje Traue, Cung Le, Eddie Rouse and
The Walking Dead's
Norman Reedus.
[Time out for
Defiance
marathon.
CLICK HERE TO VIEW DEFIANCE MARATHON SCHEDULE
.]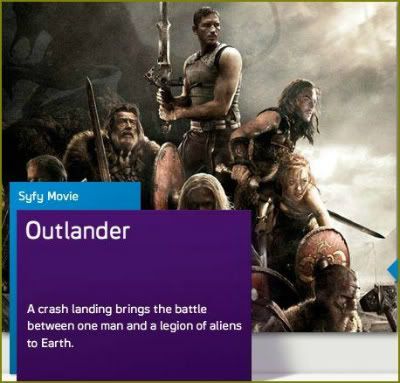 09:00 PM
Outlander
A warrior from space crash-lands into ancient Norway and helps Viking tribes battle a bloodthirsty monster.
Jim Caviezel
stars in this sc-fi adventure fantasy.
Cast includes
Person of Interests'
Jim Caviezel, Sophia Myles, Jack Huston, John Hurt, Cliff Saunders, Patrick Stevenson, Aidan Devine and Ron Perlman.
11:30 PM
Contact
An admirable attempt to examine the moral, political, social and religious implications of mankind's first contact with extraterrestrial intelligence, via the unyielding character of fiercely dedicated scientist Ellie Arraway (
Jodie Foster
), for whom the pursuit of knowledge is a holy quest.
Cast includes Jodie Foster, Jena Malone, David Morse, Matthew McConaughey, Geoffrey Blake, William Fichtner, Sami Chester, Timothy McNeil, Tom Skerritt, Max Martini, Larry King, James Woods, Angela Bassett, Donna Kelley, Leon Harris, Claire Shipman, Tabitha Soren, Geraldo Rivera, Jay Leno, Natalie Allen, Robert D. Novak, Geraldine A. Ferraro, Ann Druyan, Rob Lowe, Jake Busey, Kathleen Kennedy, John Hurt, Jill Dougherty, John Holliman, Bobbie Battista, Dee Dee Myers, Bryant Gumbel, Linden Soles, Steven Ford and Tucker Smallwood.
03:00 AM
Mutant Chronicles
A soldier (
Thomas Jane
) and a monk (
Ron Perlman
) lead a mission to save humanity from undying mutant hordes.
Cast includes Thomas Jane, Ron Perlman, Devon Aoki, Sean Pertwee, Benno Fürmann, John Malkovich, Anna Walton, Tom Wu and Steve Toussaint.