Source: Syfy
schedulebot
[
NOTE: Syfy schedule subject to change(s)
]

MYTHOLOGICAL CRITTERS MOVIE MARATHON - SYFY: SCHEDULE SUNDAY, JUNE 9, 2013
11:00 AM
Wyvern
The residents of a small Alaskan town find themselves under attack by a flying reptile known in medieval mythology as a
Wyvern
. It has thawed from its ancient slumber by melting icecaps caused by global warming.
Cast includes Nick Chinlund, Erin Karpluk, Barry Corbin, Elaine Miles, Tinsel Korey,
Stargate SG-1's
Don S. Davis and David Lewis.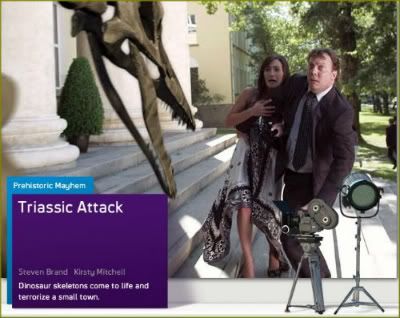 01:00 PM
Triassic Attack
Three dinosaurs wreak havoc on a small town and a local university after the owner of a kitschy roadside museum accidentally brings three fossils to life. Directed by
Eureka's
Colin Ferguson
.
Cast includes Steven Brand, Kirsty Mitchell, Jordan Bonev, Nathalie Buscombe,
Game of Thrones'
Emilia Clarke, Lincoln Frager and Veselina Ilieva.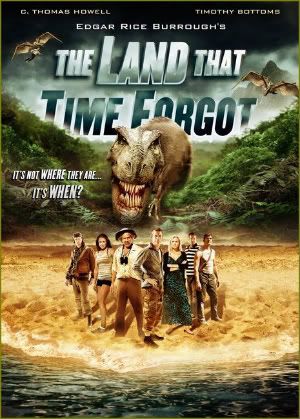 03:00 PM
The Land That Time Forgot
C. Thomas Howell
directs and stars in this adaptation of the
Edgar Rice Burroughs
tale in which dinosaurs threaten shipwreck survivors who are stranded on a mysterious island.
Cast includes C. Thomas Howell, Timothy Bottoms, Lindsey McKeon, Darren Dalton, Stephen Blackehart, Christopher Showerman and Patrick Gorman.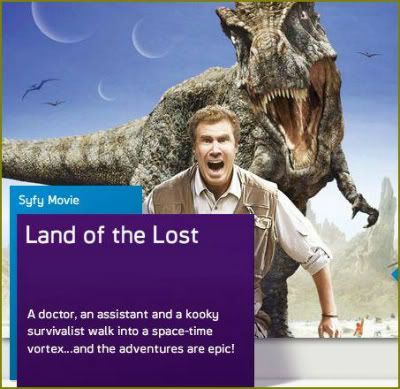 05:00 PM
Land Of The Lost
Discredited scientist Dr. Rick Marshall (
Will Ferrell
) proves his outrageous theories on time travel are true, but in the process he gets stranded with his partners in a strange world full of unusual creatures. His loyal research assistant Holly (
Anna Friel
) and firearms enthusiast Will (
Danny McBride
) help Marshall befriend a monkey-like beast named Chaka (
Jorma Taccone
) in an attempt to get back home.
Cast includes Will Ferrell, Anna Friel, Danny McBride, Jorma Taccone and John Boylan.
07:00 PM
Rise Of The Dinosaurs
While returning from a military expedition to rescue a beautiful kidnapped scientist an elite commando unit crash lands in a dense, remote tropical jungle. The commandos find themselves cut off from radio contact in a lost world populated by dinosaurs. Hunted on all sides and with their ammunition dwindling they must find a way to escape and return to civilization before becoming prey to the prehistoric predators.
Cast includes Gary Stretch,
Stargate SG-1's
Corin Nemec, Vernon Wells, Michael Worth, Natascha Berg, Alicia Ziegler, Israel Sáez de Miguel, Adrian Clissold, Philip Coc, Ganney Dortch, Aaron Erskine, John Frear, Stevie Hack, Kameisha Harris, Adran Ramirez, Jason Taylor and Berne Velasquez.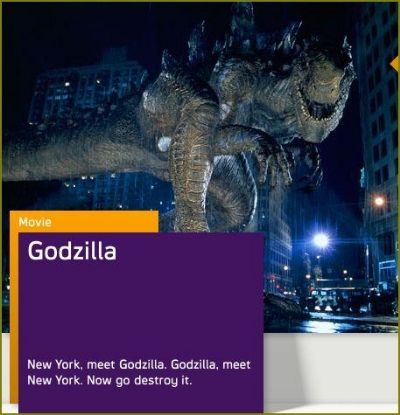 09:00 PM
Godzilla
Special-effects vehicle in which a scientist (
Matthew Broderick
) teams with a mysterious agent (
Jean Reno
) to try to stop the massive, radioactive lizard from smashing Manhattan.
Cast includes Matthew Broderick, Jean Reno, Maria Pitillo, Hank Azaria, Kevin Dunn, Michael Lerner, Harry Shearer, Arabella Field, Vicki Lewis, Doug Savant, Nancy Cartwright, Richard Gant, Clyde Kusatsu and Glenn Morshower.
12:00 AM
Pterodactyl
A dormant volcano deep with the Turkish forest holds within it a deadly secret. Perfectly preserved, a nest of pterodactyl eggs are ready to hatch.
Cast includes Cameron Daddo, Coolio, Amy Sloan, George Calil, Ivo Cutzarida, Steve Braun, Mircea Monroe and
Stargate Atlantis'
David Nykl.
02:00 AM
Raptor Island
Lively paced monster mish-mash starring
Lorenzo Lamas
as a Navy
SEAL
whose pursuit of a terrorist leads his team to a strange island filled with ravenous prehistoric raptors.
Cast includes Lorenzo Lamas, Steven Bauer, Hayley DuMond, Michael Cory Davis, Peter Jason, Hristo Shopov, Atanas Srebrev, Ivo Tonchev, Michail Elenov, Julian Vergov, Pavil Gavrilov, Velislav Pavlov and Dejan Angelov.