Source:
TV Worth Watching
[follow link for complete column]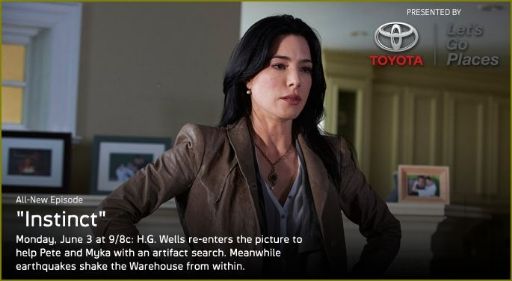 TV WORTH WATCHING: BEST BETS MONDAY, JUNE 3, 2013
...
WAREHOUSE 13
Syfy, 10:00 p.m. ET
One surprise served up long ago by this series was the appearance of a time-traveling H.G. Wells into the continuing story line. Another, even more imaginative surprise was the revelation – fictitious, but fascinating – that Wells actually was a female writer hiding behind her initials, and that the "H" stood for Helena. With Wells played by
Jaime Murray
, who bedeviled Dexter Morgan as the deadly and unpredictable Lila on
Dexter
, every appearance by Wells is worth watching, and cheering – and tonight, there's another. All of which is a lengthy way of saying that this evening, once again, Syfy is going back to the Wells.
CLICK HERE TO VIEW THE EPISODE TRAILER FOR 'INSTINCT'