Source:
PMc Magazine
[follow link for complete interview]

PMC MAGAZINE: LOOKING FOR THE RIGHT IN THE WRONG
A Conversation with LONGMIRE Actor BAILEY CHASE
By Eden
Herbstman
Summer 2013
You could say
Bailey Chase
is a man of the law…his own law that is. As one of the leading actors on
A & E's
hit western crime drama
Longmire
, his character Deputy Branch Connally knows how to stir the pot and fuel the fire. Branch is a go-getter in every sense, he knows what he wants and doesn't stop until he gets there. He's the foil to Sheriff Walt Longmire, and each leading man approaches issues of power and responsibility differently, all set within the small town life of Absaroka County, Wyoming. Some would call Branch ambitious, others maybe the modern day
Machiavelli
.
Branch's honor and loyalty are "questionable" at times, but that is precisely what makes him so compelling.
Bailey Chase
, of course, knows the ins and outs of his character and isn't afraid to push the limits. Before
Bailey
put his cowboy boots on for
Longmire
, he starred as Detective Butch Ada on
Saving Grace
, a detective with a clearer moral compass than Branch. It's through Branch's complexities and flaws though that
Bailey
can find the humanity and excitement in his character. But don't let the pretty smile and cowboy hat fool you, there is a lot more to Branch than meets the eye. And more to
Bailey Chase
as well...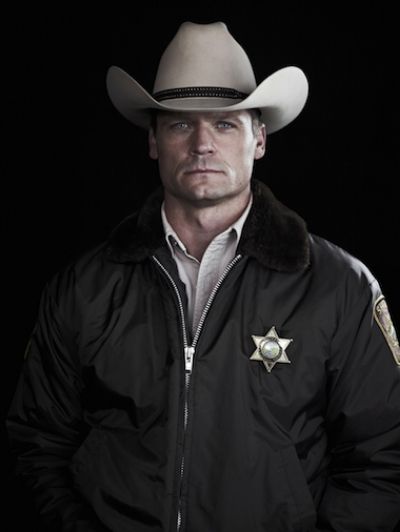 ...
Q: How did you prepare for your role as Branch? Did you read any of the books by Craig Johnson that the show is based on to get a feel for the world?
Bailey Chase
: "
I read The Cold Dish which the pilot drew heavily from. However, Branch is the only main character not in the books. I kind of like that. It gives me free license to do whatever...
"
...
Q: Do you have any interesting projects coming up that you'd like to tell us about?
Bailey Chase
:
Tao of Surfing
is a film I'm shooting with
Lou Diamond Phillips
. It's a beautiful story. I don't want to give away too much, but my character becomes the catalyst for his best friend, played by
Eric Balfour
, with surfing as the backdrop. The photography is also stunning.
Longmire
season two airs Monday at 10/9C on
A&E TV
.
CLICK HERE TO VIEW THE EPISODE TRAILER FOR 'PARTY'S OVER,' AIRING JUNE 24, 2013.