Source:
SciFi Vision
[follow link for complete interview]

SCIFI VISION: Exclusive: Lexa Doig Talks Continuum Season 2
Friday, 14 June 2013
by
Jamie Ruby
Recently
Continuum
returned to Syfy for its second season. The series, created and executive produced by
Simon Barry
, follows Kiera Cameron (
Rachel Nichols
), a cop from 2077 who is trapped in present day after traveling back in time without her consent with a group of terrorists called
Liber8
, bent on changing things. One of the interesting things about the series is that the lines are often blurred as it seems
Liber8
is trying to create a better and free future, though going about it in the wrong way.
One of the members of Liber8 is Sonya Valentine, played by
Lexa Doig
, who was left in charge after the death of their leader, Edouard Kagame (
Tony Amendola
). Originally a doctor as opposed to a soldier, she might have some new ideas about how to continue on. Regardless, she followed through on shooting
Liber8
member and lover Travis Verta (
Roger Cross
), as one of Kagame's last requests. The shot, however, she came to find out, was not fatal.
Doig
recently talked to Jamie Ruby of SciFi Vision in an exclusive interview about this season...
... Sonya isn't used to this new type of leadership role, especially because she wasn't trained as a soldier. She may be following Kagame's plan, but it will be in her own way.
Lexa Doig
: "
She tries to follow Kagame's template without ever having necessarily been in – like it's very funny, because Tony Amendola and I chatted about this this season, and I had sort of said, "Do you think he mentored her? Do you think he brought her in on the planning stuff?" We sort of came to the conclusion that yes, he probably did. Not the planning, you know, of how you're going to accomplish something. Obviously he has to bring someone like Lucas (Omari Newton) in when they're taking over stuff, like with directions and plans. It's like the scene where Kagame and Sonya are playing chess; he's teaching her strategy. So it's the whole thing of he did mentor her through it. But the thing is, when you have a master and [an apprentice], there are many years that go into actually being able to absorb and understand why your leader will make the decisions that they make. Sonya I think tries to follow to some degree Kagame's template. And she doesn't really succeed. She needs to figure out how to do it's her own way. And within that is trying to figure out what the message really was from Kagame
."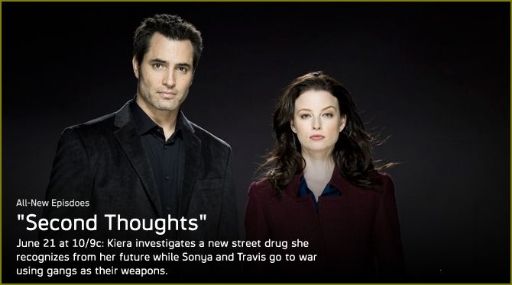 Continuum
season two airs Friday at 10/9C on
Syfy
.
CLICK HERE TO VIEW THE EPISODE TRAILER FOR 'SECOND THOUGHTS,' AIRING JUNE 21, 2013.