Source:
The Morton Report
[follow link for complete interview]

THE MORTON REPORT: An Ambitious Man: Interview with Longmire's Bailey Chase
By
Steve Eramo
June 5, 2013
As Oklahoma City police detective Butch Ada in the popular
TNT
crime drama
Saving Grace
,
Bailey Chase
helped solve brutal homicide cases as part of the city's Major Crimes unit. Given the actor's good looks and talent, it is no surprise that he grabbed the viewers' attention with his performance. When that series ended after three seasons,
Chase
booked a recurring role on another hit show, FX's
Damages
. While working on that series, the opportunity came up for a more permanent gig playing Deputy Branch Connally in A&E's
Longmire
.
"
I had a really nice time being back in New York and working on Damages with some wonderful actresses in Rose Byrne and, of course, the amazing Glenn Close
," says
Chase
. "
Then the pilot for Longmire came along, and originally I was up for the part of Walt Longmire. I loved the character and was excited about the prospect of having my own series, especially as its producers [Greer Shephard and Michael M. Robin] had a great track record with [another TNT series] The Closer.
"
So I read for them when I was back in Los Angeles during one of my breaks from Damages and everything seemed to go really well, but when they called my agent, they said that they wanted me for the Branch role. If you watched the pilot, you saw that Branch wasn't quite the man he is today, or that I like to think he is. So I had a side conversation with Greer Shephard, our show runner, who basically told me, 'You're perfect for this role. We want an equal adversary for Walt; that's what will make this show interesting. We'll treat the pilot script a little bit with regard to your role
...'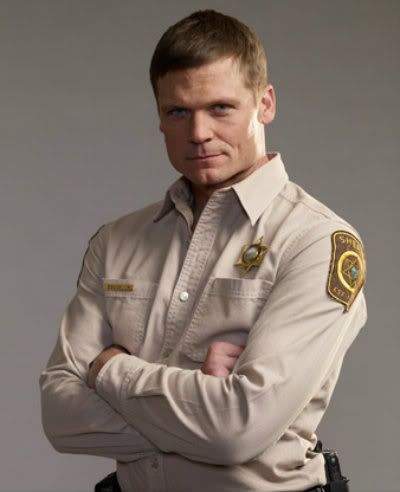 Longmire
season two airs Monday at 10/9C on
A&E TV
.
CLICK HERE TO VIEW THE EPISODE TRAILER FOR 'PARTY'S OVER,' AIRING JUNE 24, 2013.