Source:
Channel Guide
[follow link for complete interview]

CHANNEL GUIDE: "7 Questions" With … Sara Canning of Syfy's "Primeval New World"
June 6, 2013
By
Stacey Harrison
Fans shed more than a few tears when character
Sara Canning
played exited
The Vampire Diaries
in 2011, but they'll get a chance to see the actress back in action this month as
Primeval: New World
comes to
Syfy
. The North American spinoff of the British series has
Canning
playing a predator-control expert who suddenly finds herself trying to wrangle dinosaurs that have found their way to modern-day Vancouver via temporal anomalies. The 25-year-old Canadian native also used to write a blog for teen.com, and was a competitive figure skater in her youth...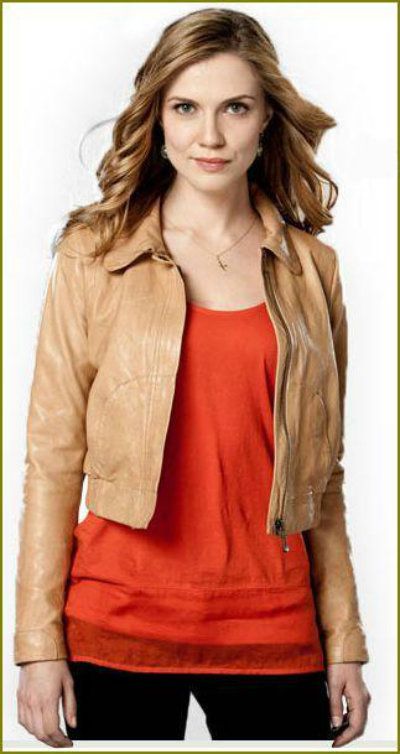 ...
Q: What has been your strangest fan encounter?
Sara Canning
: "
I've had a few people actually ask me to sign other people's photos. I've had a number of people send me photos of Candice Accola, a girl I worked with on The Vampire Diaries. She's beautiful and so lovely, so I guess I'll take it as a compliment, but I always find it funny
."
Q: Tell me about a time when you were starstruck.
Sara Canning
: "
I met Jeff Bridges a few years ago. I actually heard his voice coming down the hallway before I saw him. I am such a huge fan, and all I could think was, "The Dude is walking down the hallway towards me right now!" He's just so easily funny, and such a lovely man. I think he really enjoys what he does, and really enjoys meeting and talking with people...
"
Primeval: New World
airs Saturday at 10/9C on
Syfy
.
CLICK HERE TO VIEW THE EPISODE TRAILER FOR 'FEAR OF FLYING,' AIRING JUNE 22, 2013.