Source: Syfy
schedulebot
[
NOTE: Syfy schedule subject to change(s)
]

THRILLER MOVIE MARATHON - SYFY: SCHEDULE SATURDAY, APRIL 20, 2013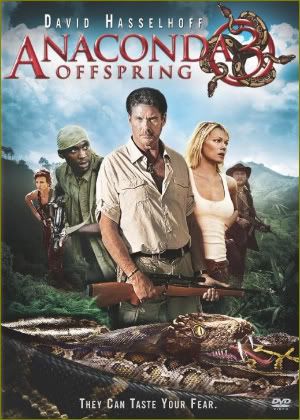 11:00 AM
Anaconda 3
A hunt for two massive snakes is launched following their escape from a research facility where their longevity was studied.
Cast includes David Hasselhoff, Crystal Allen, Ryan McCluskey, Patrick Regis, Anthony Green and John Rhys-Davies.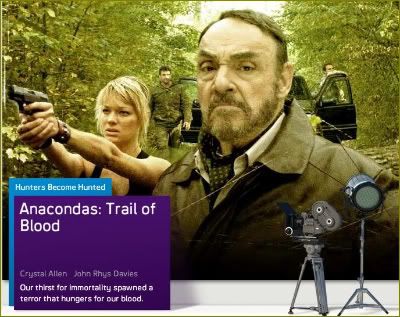 01:00 PM
Anacondas: Trail Of Blood
A genetically created Anaconda, cut in half, regenerates itself into two aggressive giant snakes, due to the Blood Orchid.
Cast includes Crystal Allen, Linden Ashby, Danny Midwinter, Ana Ularu, Claudiu Bleont, Anca-Ioana Androne and John Rhys-Davies.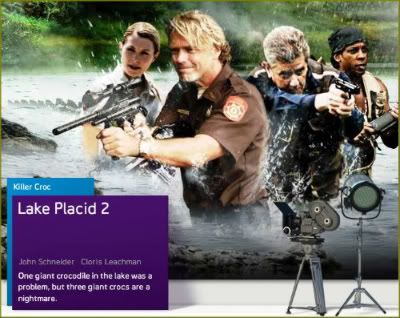 03:00 PM
Lake Placid 2
The quirky residents of
Lake Placid
once again become gator bait in this horror sequel. Eight years after the town was devastated by a giant crocodile, the creature's numerous offspring return for some human snacks of their own. It's up to the local sheriff (
John Schneider
), his ex-girlfriend, an
EPA
agent and a professional croc hunter to stop the bloodthirsty beasts before they kill again.
Guest includes John Schneider, Sarah Lafleur, Sam McMurray, Chad Michael, Alicia Ziegler, Joe Holt, Ian Reed Kesler, Justin Urich and Cloris Leachman.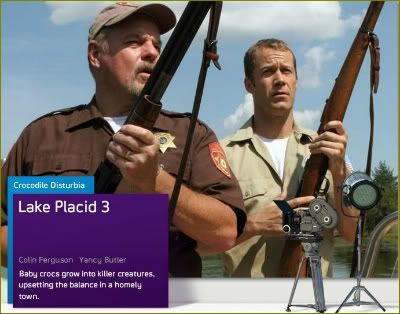 05:00 PM
Lake Placid 3
A game warden (
Colin Ferguson
) moves into his aunt's lakeside cabin with his wife and young son, and the little boy feeds the resident baby crocodiles until they grow up into monstrous predators that become a menace to the family.
Cast includes
Eureka's
Colin Ferguson, Yancy Butler, Kirsty Mitchell, Kacey Barnfield, Jordan Grehs, Michael Ironside, Angelica Penn and Bianca Ilich.
07:00 PM
Wrong Turn
Six young people get lost in the West Virginia backwoods and make
DELIVERANCE
(1972) jokes until the jokes stop being funny. That would be right around the time the first hapless out of towner winds up being butchered for lunch.
Cast includes Desmond Harrington, Eliza Dushku, Emmanuelle Chriqui, Jeremy Sisto, Kevin Zegers, Lindy Booth, Julian Richings, Garry Robbins, Ted Clark, Yvonne Gaudry and Joel Harris.
09:00 PM
Wrong Turn 5: Bloodlines
- Syfy Premiere!
A hungry clan of inbred cannibals feast on unsuspecting college students during a music festival in West Virginia.
Cast includes Doug Bradley, Camilla Arfwedson, Simon Ginty, Roxanne McKee, Paul Luebke, Oliver Hoare, Kyle Redmond-Jones, Amy Lennox, Duncan Wisbey, Radoslav Parvanov, George Karlukovski, Borislav Iliev, Peter Brooke and
Game of Thrones
Finn Jones.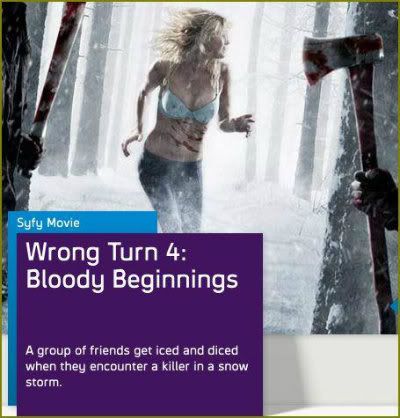 11:00 PM
Wrong Turn 4: Bloody Beginnings
Tenika Davis
stars in this horror prequel about a group of college students who stumble upon an abandoned sanatorium and are hunted by the facility's former patients.
Cast includes Sean Skene, Blane Cypurda, Dan Skene, Tristan Carlucci, Scott Johnson, Bryan Verot, Jennifer Pudavick, Tenika Davis, Kaitlyn Wong, Terra Vnesa, Victor Zinck Jr., Dean Armstrong, Ali Tataryn, Samantha Kendrick, Arne MacPherson and Kristen Harris.
01:00 AM
Wrong Turn 5: Bloodlines
03:00 AM
Wrong Turn