Source: Syfy
schedulebot
[
NOTE: Syfy schedule subject to change(s)
]

SCIFI MOVIE MARATHON - SYFY: SCHEDULE FRIDAY, APRIL 12, 2013
08:00 AM
Alien Siege
Low-budget chiller pits a band of Earth rebels against dying aliens whose only chance of survival is to develop a serum from human beings.
Cast includes Brad Johnson, Erin Ross, Lilas Lane, Nathan Anderson, Michael Cory, Gregor Paslawsky, Ray Baker and Carl Weathers.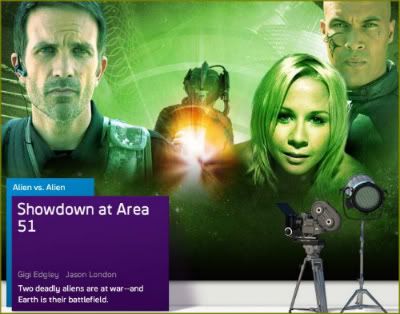 10:00 AM
Showdown At Area 51
Two alien races have crashed on the Earth and are searching for an artifact with the power to destroy the planet.
Cast includes Lee Horsley, Jason London, Gigi Edgley, Christa Campbell, Coby Bell and Jahidi White.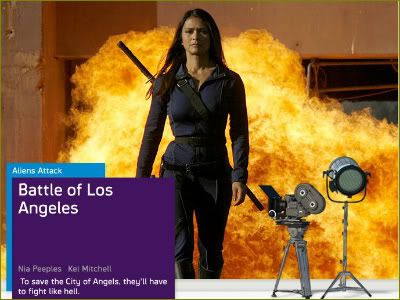 12:00 PM
Battle Of Los Angeles
Alien spacecraft attack Los Angeles in the first wave of an invasion, and humanity's survival depends upon two soldiers who must breach the mother ship and destroy it from within.
Cast includes Nia Peeples, Kel Mitchell, Dylan Vox, Theresa June Tao, Gerald Webb, Edward DeRuiter, Darin Cooper, Robert Pike Daniel and Tim Abell.
02:00 PM
Contact
An admirable attempt to examine the moral, political, social and religious implications of mankind's first contact with extraterrestrial intelligence, via the unyielding character of fiercely dedicated scientist Ellie Arraway (
Jodie Foster
), for whom the pursuit of knowledge is a holy quest.
Cast includes Jodie Foster, Jena Malone, David Morse, Matthew McConaughey, Geoffrey Blake, William Fichtner, Sami Chester, Timothy McNeil, Tom Skerritt, Max Martini, Larry King, James Woods, Angela Bassett, Donna Kelley, Leon Harris, Claire Shipman, Tabitha Soren, Geraldo Rivera, Jay Leno, Natalie Allen, Robert D. Novak, Geraldine A. Ferraro, Ann Druyan, Rob Lowe, Jake Busey, Kathleen Kennedy, John Hurt, Jill Dougherty, John Holliman, Bobbie Battista, Dee Dee Myers, Bryant Gumbel, Linden Soles, Steven Ford and Tucker Smallwood.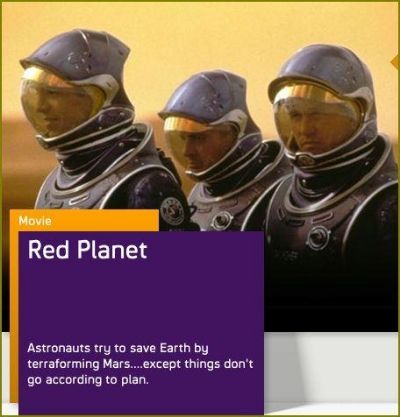 05:30 PM
Red Planet
When life on Earth is threatened by pollution in the mid-21st century, an expedition travels to Mars to test its ability to sustain life.
Cast includes Val Kilmer, Carrie-Anne Moss, Tom Sizemore, Benjamin Bratt,
The Mentalist's
Simon Baker and Terence Stamp.