Source: Syfy
schedulebot
[
NOTE: Syfy schedule subject to change(s)
]

ACTION MOVIE MARATHON - SYFY: SCHEDULE SATURDAY, APRIL 13, 2013
09:30 AM
Daybreakers
The vampire genre is given a novel approach with lackluster results in this noir-ish horror film from the Australian filmmaking team of
Michael
and
Peter Spierig
. Existing in the near future, the picture hypothesizes a vampiric takeover of the Earth wherein the fanged population continues to go about their lives while humankind is drained of blood in order to keep the masses alive. The film's most delectable bits come when the vamps go through withdrawal and transform into blood-thirsty monsters, hungry for sustenance from wherever they can get it -- including themselves.
Cast includes Ethan Hawke, Willem Dafoe, Sam Neill, Claudia Karvan, Michael Dorman, Isabel Lucas and Vince Colosimo.
11:30 AM
Stake Land
After vampires overtake America, orphaned teen Martin (
Connor Paolo
) and survivalist Mister (
Nick Damici
) find themselves locked in a battle against a dangerous religious cult lead by the diabolical Jebedia Loven (
Michael Cerveris
). Later, Martin and Mister are joined by a group of weary travelers trying to find a sanctuary known as New Eden.
Cast includes Nick Damici, Connor Paolo, Sean Nelson,
Fringe's
Michael Cerveris, Bonnie Dennison, Chance Kelly, Tim House, Larry Fessenden and Kelly McGillis.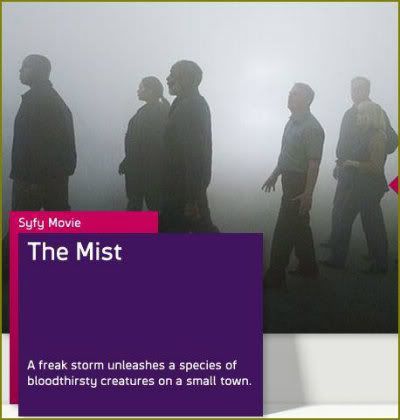 01:30 PM
The Mist
Stephen King's
apocalyptic chiller about a group of people who are trapped in a grocery store by a strange mist that unleashes an army of deadly creatures.
Cast includes Thomas Jane, Marcia Gay Harden, Laurie Holden, Andre Braugher, Toby Jones, William Sadler and
Being Human's
Sam Witwer.
04:00 PM
My Soul To Take
A serial killer returns 16 years after his death to claim the seven children born on the night he was killed. Meanwhile, the maniac's son Adam (
Max Thieriot
)---one of his intended victims---battles to lay his father's bloody legacy to rest.
Cast includes Max Thieriot, John Magaro, Denzel Whitaker, Zena Grey, Nick Lashaway, Paulina Olszynski, Jeremy Chu, Emily Meade, Raúl Esparza, Jessica Hecht, Frank Grillo, Danai Gurira, Harris Yulin, Shareeka Epps, Elena Hurst, Dennis Boutsikaris and Felix Solis.
06:00 PM
Shutter Island
U.S. Marshal Teddy Daniels (
Leonardo DiCaprio
) investigates the disappearance of a killer at a mental asylum located on an island currently in the path of a major hurricane. As Teddy's investigation continues, he suspects that the asylum's doctors are performing dangerous experiments and he begins to fear that there might be a supernatural presence on the island. Directed by
Martin Scorsese
.
Cast includes Leonardo DiCaprio, Mark Ruffalo, Ben Kingsley, Max von Sydow, Michelle Williams, Emily Mortimer, Patricia Clarkson, Jackie Earle Haley and Ted Levine.
09:00 PM
V For Vendetta
- Syfy Premiere!
Stylish allegorical thriller about a masked avenger known as V, who leads a revolution in a futuristic, totalitarian Britain.
Cast includes Natalie Portman, Hugo Weaving, Stephen Rea, Stephen Fry, John Hurt, Tim Pigott-Smith, Rupert Graves, Roger Allam, Ben Miles, Sinéad Cusack, Natasha Wightman, Eddie Marsan and Clive Ashborn.
12:00 AM
Sin City
Robert Rodriguez
and
Frank Miller
directed this stunning, faithful and gory adaptation of a trio of
Miller's
graphic novels set in the underbelly of a noirish metropolis. A film that explores the dark and miserable town, Basin City, and tells the story of three different people, all caught up in violent corruption.
Cast includes Jessica Alba, Devon Aoki, Powers Boothe, Jude Ciccolella, Rosario Dawson, Jesse De Luna, Benicio Del Toro, Michael Clarke Duncan, Rick Gomez, Carla Gugino, Josh Hartnett, Rutger Hauer, Nicky Katt, Jaime King, Michael Madsen, Brittany Murphy, Nick Offerman, Clive Owen, Mickey Rourke, Nick Stahl, Bruce Willis and Elijah Wood.
02:30 AM
The Mist