Source: BBC America
schedulebot

DOCTOR WHO - BBC AMERICA: MARATHON SCHEDULE THURSDAY, APRIL 11, 2013

Season 5
04:00PM
Vampires in Venice
The Doctor (
Matt Smith
) and Amy (
Karen Gillan
) cross swords in more ways than one with a horde of blood-sucking vampires in 16th century Venice.
Guest stars include Helen McCrory, Lucian Msamati, Alisha Bailey and Alex Price.
05:00PM
Amy's Choice
Five years after finally leaving the
TARDIS
Amy (
Karen Gillan
) and Rory (
Arthur Darvill
) now married, live in the quiet little village of Leadworth. But everything is not what it would seem.
Guest stars include Toby Jones, Nick Hobbs, Joan Linder and Audrey Ardington.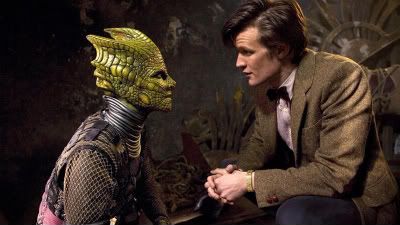 06:00PM
The Hungry Earth
The Doctor (
Matt Smith
) tries to get everyone to Rio, but nothing quite goes as planned. They arrive in a small Welsh village where the Doctor immediately senses that the ground isn't quite right. There is a drilling rig nearby that has reached a depth of 21 kilometers when odd things begin to happen. A local village man has disappeared and soon after Amy (
Karen Gillan
) is swallowed into the ground. The Doctor realizes that the drilling has disturbed an ancient reptilian race that has lived deep underground for thousands upon thousands of years and who are determined to protect themselves against the 'apes' who live on the surface.
Guest stars include Neve McIntosh, Meera Syal, Robert Pugh and Nia Roberts.
07:00PM
Cold Blood
The Doctor (
Matt Smith
) and Nasreen Chaudry (
Meera Syal
) go deep underground and find an ancient society that has been disturbed by the drilling. They are gassed and taken prisoner just as Amy (
Karen Gillan
) manages to free herself. The military commander of the underground reptilians, Restac (
Neve McIntosh
), is convinced that the "apes' - their term for humans - are an invading force. Calmer heads prevail and the Doctor manages to negotiate a truce pending the transfer of prisoners which he, and some of the more pacifist members of the reptilians, hopes will lead to a lasting peace. The only problem is that Alaya, the reptile prisoner has been killed and Restac is ready to go to war.
Guest stars include Neve McIntosh, Meera Syal, Robert Pugh and Nia Roberts.

Season 7.5
08:00PM
The Rings of Akhaten
In "
The Rings of Akhaten
," new companion Clara (
JENNA-LOUISE COLEMAN
) wants to see something awesome, so the Doctor (
MATT SMITH
) whisks her off to the inhabited rings of the planet Akhaten, where the Festival of Offerings is in full swing.
Clara meets the young Queen of Years as the pilgrims and natives ready for the ceremony. But something is stirring in the pyramid, and a sacrifice will be demanded...
Guest stars include Emilia Jones, Michael Dixon, Nicola Sian, Chris Anderson, Aidan Cook and Karl Greenwood.
11:00PM
The Rings of Akhaten
DOCTOR WHO - BBC AMERICA: MARATHON SCHEDULE FRIDAY, APRIL 12, 2013
02:00AM
Vampires in Venice
03:00AM
Amy's Choice
04:00AM
The Hungry Earth
05:00AM
Cold Blood