Source: Syfy
schedulebot
[
NOTE: Syfy schedule subject to change(s)
]

SCIFI MOVIE MARATHON - SYFY: SCHEDULE WEDNESDAY, APRIL 10, 2013
08:30 AM
Species: The Awakening
Helena Mattsson
and
Ben Cross
star as a woman and her uncle in this sequel about a college professor who uncovers her alien roots in the wake of a killing spree. Directed by
Nick Lyon
.
Cast include Edy Arellano, Helena Mattsson, Marco Bacuzzi, Ben Cross, Roger Cudney, Marlene Favela, Meagen Fay, Cynthia Francesconi,
Star Trek: Enterprise's
Dominic Keating, Greg Lucas and Mauricio Martinez.
10:30 AM
Stargate: The Ark Of Truth
Stargate SG-1 cast includes Amanda Tapping, Christopher Judge, Michael Shanks, Ben Browder, Claudia Black and Beau Bridges.
The
SG-1
team searches for an ancient artifact that will enable them to defeat their enemies, the Ori. Written and directed by
Robert C. Cooper
.
Guest stars include Currie Graham,
Homeland's
Morena Baccarin,
Revolution's
Tim Guinee, Julian Sands, Sarah Strange, Michael Beach, Gary Jones, Martin Christopher,
Eureka's
, Chris Gauthier, Eric Breker, Matthew Walker, Alisen Down, Gabrielle Rose, Fabrice Grover, Spencer Maybee, Greg Anderson, Doug Abrahams and Morris Chapdelaine.
12:30 PM
Stargate: Continuum
Stargate SG-1 cast includes Richard Dean Anderson, Amanda Tapping, Christopher Judge, Michael Shanks, Ben Browder, Claudia Black and Beau Bridges.
After two members of the
SG-1
team disappear into thin air, the remaining members of the elite military unit return to Earth and discover that their history has been erased.
Guest stars include William Devane, Cliff Simon, Don S. Davis, Steve Bacic, Gary Jones, Jacqueline Samuda, Peter Williams, Ron Halder, Vince Crestejo, Jay Williams,
Falling Skies'
Colin Cunningham, Michael Bernacchi, Wesley K. Koshoffer, Jason M. Geddes, Alan M. Roche and Barry Campbell.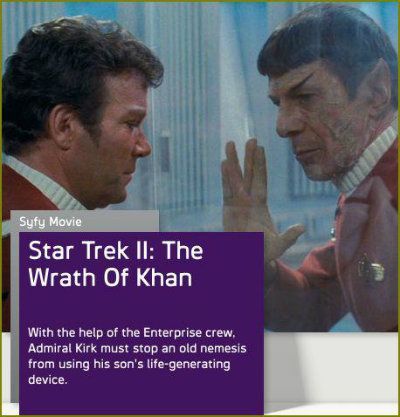 02:30 PM
Star Trek II: The Wrath Of Khan
Star Trek (original series movies) cast include William Shatner, Leonard Nimoy, DeForest Kelley, James Doohan, George Takei, Walter Koenig and Nichelle Nichols.
Kirk (
William Shatner
), Spock (
Leonard Nimoy
) and the
Enterprise
crew battle an old foe (
Ricardo Montalban
) who blames Kirk for the death of his wife.
Guest cast includes Bibi Besch, Merritt Butrick, Paul Winfield, Kirstie Alley, Ricardo Montalban and Judson Scott.
[Time out for Syfy Wednesday programming]
01:00 AM
Primeval
A news team is sent to Burundi to capture and bring home a legendary 25-foot crocodile. Their difficult task turns potentially deadly when a warlord targets them for death.
Cast includes Dominic Purcell, Brooke Langton, Orlando Jones, Jürgen Prochnow, Gideon Emery, Gabriel Malema and Linda Mpondo.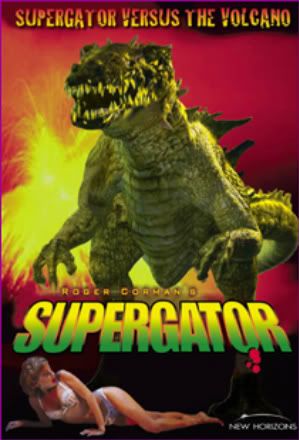 03:00 AM
Supergator
Scott Kinney (
Brad Johnson
) is an American geologist monitoring a local volcano when the
Supergator
, a prehistoric alligator recreated from fossilized DNA escapes from a secret bio-engineering research center. Kinney joins forces with another scientist and a Texan alligator hunter as they pursue the monster as it heads down river intent on destroying a luxurious resort packed with tourists.
Cast includes Brad Johnson, Kelly McGillis, Bianca Lawson, Mary Alexandra Stiefvater and Josh Kelly.