Source: Syfy
schedulebot
[
NOTE: Syfy schedule subject to change(s)
]

ACTION MOVIE MARATHON - SYFY: SCHEDULE SUNDAY, APRIL 14, 2013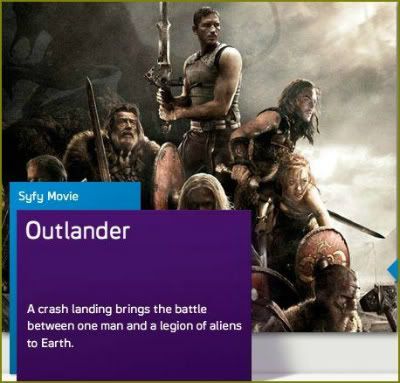 10:00 AM
Outlander
A warrior from space crash-lands into ancient Norway and helps Viking tribes battle a bloodthirsty monster.
Jim Caviezel
stars in this sc-fi adventure fantasy.
Cast includes
Person of Interests'
Jim Caviezel, Sophia Myles, Jack Huston, John Hurt, Cliff Saunders, Patrick Stevenson, Aidan Devine and Ron Perlman.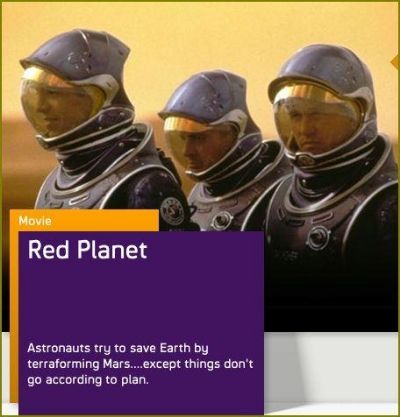 12:30 PM
Red Planet
When life on Earth is threatened by pollution in the mid-21st century, an expedition travels to Mars to test its ability to sustain life.
Cast includes Val Kilmer, Carrie-Anne Moss, Tom Sizemore, Benjamin Bratt,
The Mentalist's
Simon Baker and Terence Stamp.
03:00 PM
Casino Royale
Daniel Craig
is aces in his first go-round as British secret agent James Bond, who tries his hand at outwitting a terrorist banker (
Mads Mikkelsen
). Ripping spy jinks with
Eva Green
as the Bond girl and
Judi Dench
as M.
Cast includes Daniel Craig, Eva Green, Mads Mikkelsen, Judi Dench, Jeffrey Wright, Giancarlo Giannini, Caterina Murino and Simon Abkarian.
06:00 PM
V For Vendetta
Stylish allegorical thriller about a masked avenger known as V, who leads a revolution in a futuristic, totalitarian Britain.
Cast includes Natalie Portman, Hugo Weaving, Stephen Rea, Stephen Fry, John Hurt, Tim Pigott-Smith, Rupert Graves, Roger Allam, Ben Miles, Sinéad Cusack, Natasha Wightman, Eddie Marsan and Clive Ashborn.
09:00 PM
Lord Of The Rings: The Two Towers
- Syfy Premiere!
The second chapter of director
Peter Jackson's
epic trilogy is packed with spectacular action and fierce battle scenes as Frodo (
Elijah Wood
) continues on his quest to destroy the evil ring. The film won an Academy Award for its visual effects and was nominated for a total of six Oscars, including Best Picture.
Cast includes Sean Astin, Cate Blanchett, Orlando Bloom, Billy Boyd, Brad Dourif, Bernard Hill, Paris Howe Strewe, Christopher Lee, Ian McKellen, Dominic Monaghan, Viggo Mortensen, Miranda Otto, Craig Parker, John Rhys-Davies, Andy Serkis, Liv Tyler, Karl Urban, Hugo Weaving, David Wenham and Elijah Wood.
01:30 AM
Outlander