Source:
Syfy schedulebot
SYFY: SATURDAY SHARKFEST MOVIE MARATHON AUGUST 20, 2011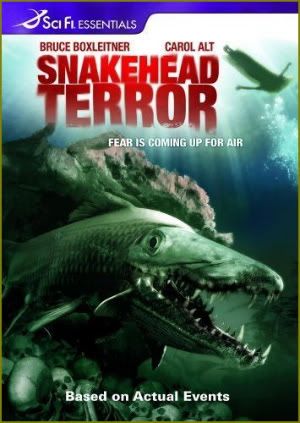 09:00 AM
Snakehead Terror
A small-time sheriff must cope with a town besieged by carnivorous land-walking fish when strange chemicals dumped in a nearby lake turn nature against mankind.
Cast includes
Babylon 5's
Bruce Boxleitner, Carol Alt, Chelan Simmons, William B. Davis, Doug Abrahams and
Stargate SG-1's
Gary Jones.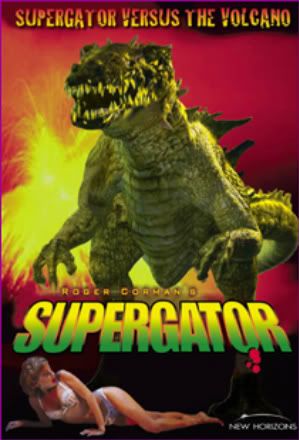 11:00 AM
Supergator
Scott Kinney
is an American geologist monitoring a local volcano when the Supergator, a prehistoric alligator recreated from fossilized DNA escapes from a secret bio-engineering research center. Kinney joins forces with another scientist and a Texan alligator hunter as they pursue the monster as it heads down river intent on destroying a luxurious resort packed with tourists.
Cast includes Brad Johnson, Kelly McGillis, Bianca Lawson, Mary Alexandra Stiefvater and Josh Kelly.
01:00 PM
Dinoshark
A dinosaur-shark hybrid terrorizes a resort in Mexico, and it's up to a young fishing boat captain to stop it.
Cast include
Haven's
Eric Balfour, Iva Hasperger, Aarón Díaz, Humberto Busto and Richard Miller.
Watch a death scene from the Syfy Original Movie "Dinoshark."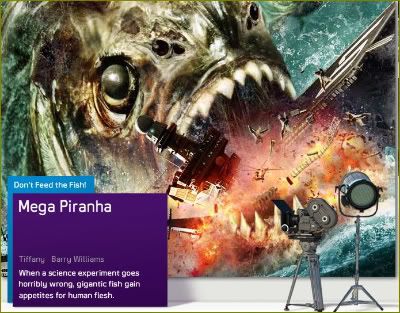 03:00 PM
Mega Piranha
Giant mutant piranha escape from the Amazon and head for Florida.
Cast includes Paul Logan, Tiffany, Barry Williams, David Labiosa, Jude Gerard Prest and Jesse Daly.
Watch a death scene from the Syfy Original Movie "Mega Piranha."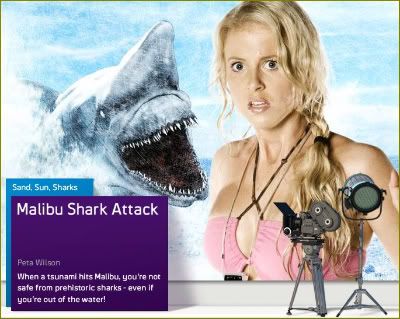 05:00 PM
Malibu Shark Attack
A tsunami brings goblin sharks to Malibu, CA, after a massive wave cuts lifeguards and construction workers off from dry land.
Cast includes Peta Wilson, Renee Bowen, Remi Broadway, Joel Amos Byrnes, Warren Christie, Nicholas G. Cooper and Sonya Salomaa.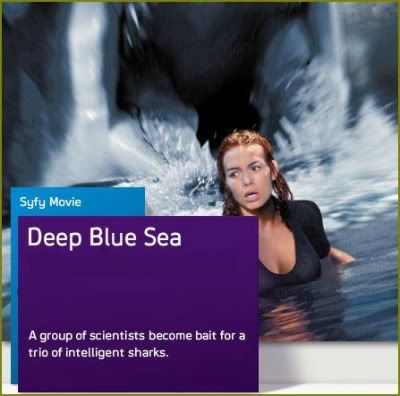 07:00 PM
Deep Blue Sea
Renny Harlin
directed this thriller about genetically altered sharks that terrorize the scientists experimenting on them.
Cast include
Hung's
Thomas Jane, Saffron Burrows, Samuel L. Jackson, Jacqueline McKenzie, Michael Rapaport, Stellan Skarsgård and
NCIS: Los Angeles'
LL Cool J.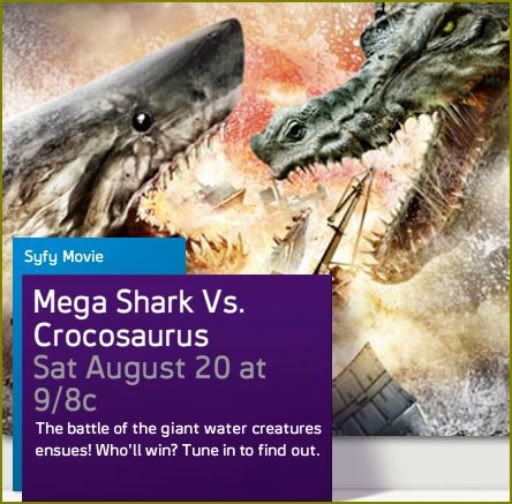 09:00 PM
Mega Shark Vs. Crocosaurus
A gigantic, immensely powerful shark does battle with a fierce primordial crocodile from Africa.
Cast includes Gary Stretch, Jaleel White, Sarah Lieving,
Star Trek: Voyager
/
Stargate Atlantis'
Robert Picardo, Gerald Webb, Dylan Vox, Hannah Cowley and Steve Mason.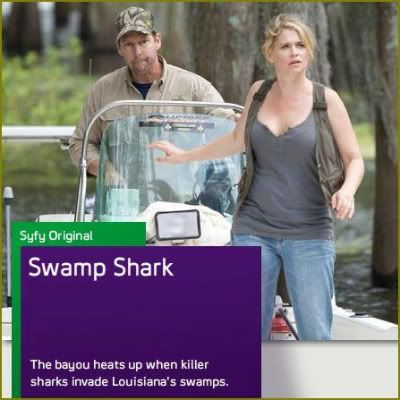 11:00 PM
Swamp Shark
An animal-smuggling deal gone bad puts a man-eating shark into a swampy backwoods river, where it stalks swimmers and boaters and imperils the town's annual Gator Fest.
Cast includes Kristy Swanson, Robert Davi, Richard Tanne, D.B. Sweeney, Jason Rogel, Jeff Chase, Sophie Sinise, Wade Boggs and Christopher Shane Berry.
Watch a death scene from the Syfy Original Movie "Swamp Shark."
01:00 AM
Mega Shark Vs Giant Octopus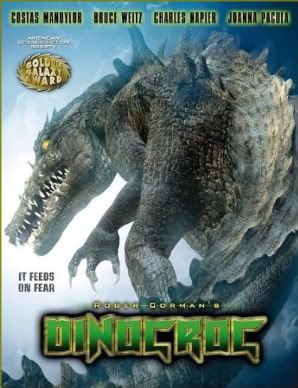 03:00 AM
Dinocroc
Scientists become victims of their own work when the cross ancient crocodile DNA with that of a dinosaur.
Cast includes Costas Mandylor, Charles Napier, Bruce Weitz, Matthew Borlenghi, Jane Longenecker and Max Perlich.