Source: Turner Classic Movies
schedulbot
HORROR MOVIE MARATHON - TURNER CLASSIC MOVIES: SCHEDULE SATURDAY, APRIL 27, 2013
01:45 PM
Tarantula
(1955)
A scientist's experiments to cure hunger create a giant tarantula. Scientist
Leo G. Carroll's
new growth formula works a little too well, and pretty soon there's a humongous spider chewing up the countryside. One of the best giant-insect films, with fast pacing, convincing special effects, and interesting subplot detailing formula's effect on humans. That's
Clint Eastwood
as the jet squadron leader in final sequence.
Cast includes John Agar, Mara Corday, Leo G. Carroll, Nestor Paiva, Ross Elliott, Edwin Rand, Raymond Bailey, Hank Patterson, Bert Holland, Steve Darrell, Clint Eastwood and Bing Russell.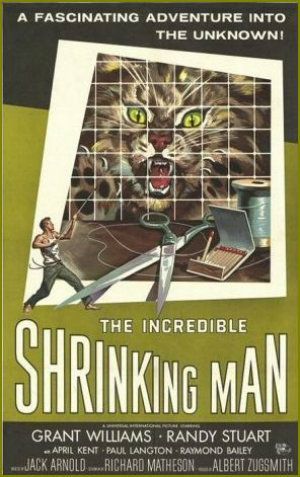 03:15 PM
The Incredible Shrinking Man
(1957)
When he mysteriously starts shrinking, a man finds a new world of danger in everyday creatures. Outstanding special effects highlight intelligent story.
Grant Williams'
mysterious shrinkage forces him to view the world--and himself--in a different light than ever before. Existential script by
Richard Matheson
, from his novel.
Cast includes Grant Williams, Randy Stuart, April Kent, Paul Langton, Raymond Bailey, William Schallert, Frank J. Scannell, Helene Marshall, Diana Darrin and Billy Curtis.
04:45 PM
Five Million Years To Earth
(1968) (
NOTE
: also known as
Quatermass and the Pit
]
Subway excavations unearth a deadly force from beyond space and time.
Cast includes James Donald, Andrew Keir, Barbara Shelley, Julian Glover.
06:30 PM
The Monster that Challenged the World
(1957)
Above-average giant-bug-on-the- loose film is set in the Salton Sea, where colossal mollusks (like big caterpillars in snail shells) menace locals. Intelligent, low-key, with good monsters.
Dir: Arnold Laven Cast: Tim Holt, Audrey Dalton, Hans Conried, Casey Adams.
02:15 AM
The Manitou
(1978)
A psychic's girlfriend finds out that a lump on her back is a growing reincarnation of a 400 year-old demonic Native American spirit.
Cast includes Tony Curtis, Michael Ansara, Susan Strasberg, Stella Stevens, Jon Cedar, Ann Sothern, Burgess Meredith, Paul Mantee, Jeanette Nolan, Lurene Tuttle and Hugh Corcoran.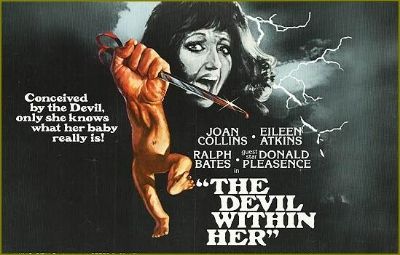 04:00 AM
The Devil Within Her
(1975) [
Note
: also known as
Sharon's Baby
.]
A pregnant woman learns she is about to give birth to Satan's child.
Cast includes Joan Collins, Eileen Atkins, Ralph Bates, Donald Pleasence, Caroline Munro, Hilary Mason, John Steiner, Janet Key, George Claydon and Judy Buxton.