Source:
Digital Spy
[follow link for compete Q & A]

DIGITAL SPY: Jaime Murray 'Defiance' Q&A: "I'm not the best gamer!"
Friday, Apr 12 2013
By
Morgan Jeffery
Syfy's new alien spectacular series
Defiance
is something of a first - not just a television science fiction drama, the new show - developed by
Farscape's
Rockne S O'Bannon
- is part of a larger world that includes a multiplayer online video game.
Digital Spy met with actress
Jaime Murray
- who cuts a striking figure as the alien Stahma Tarr in the TV show - to talk about her new role, the perils of working in the fantasy genre and her skills as a gamer...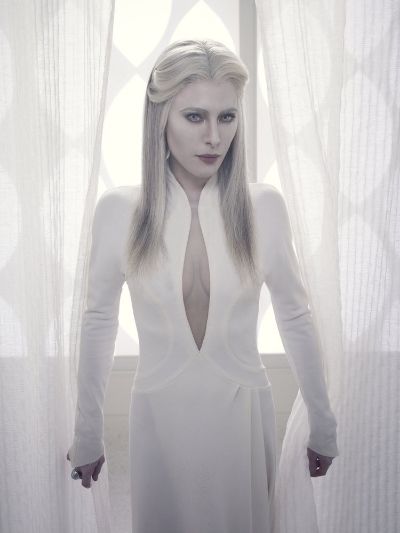 ...
Digital Spy: You've starred in a few cult shows like Warehouse 13 and Spartacus - what is the appeal of fantasy?
Jaime Murray
: "
I think that fantasy and myth have always had a place in our society. It can be quite meaningful and I think the fans are very loyal and enthusiastic. I think it's because the circumstances in sci-fi are often so heightened - good vs evil, life and death, war and peace - that I think it evokes some really strong emotions.

"It's almost Shakespearean sometimes - the characters trying to live within these crazy circumstances. So I think that it's cathartic for the audience to watch that kind of journey.
"
Digital Spy: Are you an old hand now at working with CGI, or does it still prove tricky?
Jaime Murray
: "
It never gets easy! You feel like such a twit - you're looking at the end of a broom that somebody in a cap and a pair of jeans is waving around, pretending you're scared of it, just hoping that you won't end up with egg on your face!

"But the wonderful thing about this show is… not only is it a TV show, but it's also a video game - so we had artwork to look at and we had answers to practically all of our mythology questions because the game was conceived over five years ago.

"We have people whose job title is 'Mythology Coordinator' - we've got books, we've got artwork… so every now and then, when you thought, 'Oh my gosh, what am I doing?', there was generally a reassuring answer to those questions
..."
Defiance
premieres on Monday, April 15 at 9/8c on Syfy US and airs the following day at 9pm on Syfy UK.