Source:
Yahoo! TV
[follow link for complete column]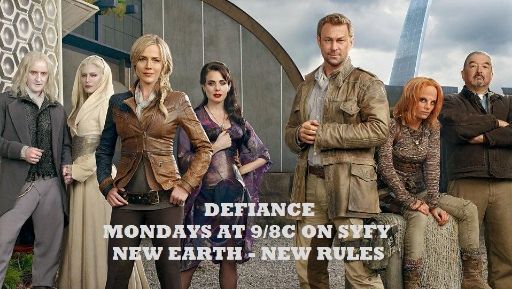 Yahoo! TV: Monday's Picks: What to Watch Monday, April 15, 2013
A list of can't-miss hot shows, undiscovered gems and fan favorites
...
Defiance
MONDAY 9 PM on Syfy
Series Premiere
: Syfy bridges the gap between TV and online gaming with this new action-packed drama, starring "
Liz & Dick's
"
Grant Bowler
and "
Dexter's
"
Julie Benz
. Tonight's
two-hour premiere
takes us to a futuristic Earth, where seven alien races coexist alongside humans peacefully… for the most part. And the adventure continues on an immersive online gaming experience that ties in directly with the events on the series.
CLICK HERE TO VIEW A VIDEO SNEAK PEAK - THE FIRST 14 MINUTES OF THE PILOT EPISODE