Source: Syfy
schedulebot
[
NOTE: Syfy schedule subject to change(s)
]

VAMPIRE MOVIE MARATHON - SYFY: SCHEDULE SATURDAY, MARCH 30, 3013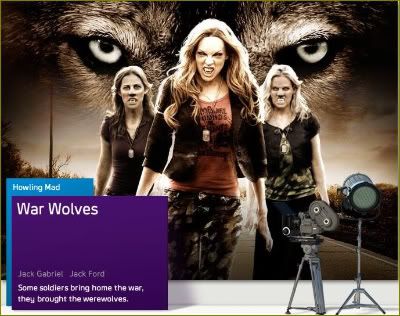 10:30 AM
War Wolves
Soldiers who became werewolves are tracked by the leader of a special ops unit (
John Saxon
).
Cast includes John Saxon, Tim Thomerson, Michael Worth, Adrienne Barbeau, Natasha Alam and Martin Kove.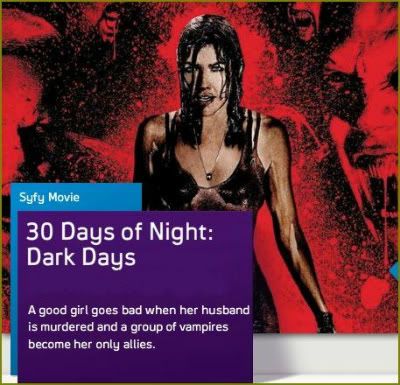 12:30 PM
30 Days Of Night: Dark Days
Following the gruesome vampire siege in Barstow, Alaska, Stella (
Kiele Sanchez
) moves to L.A. and decides to avenge the death of her husband by bating the local bloodsucking population into a fight.
Cast includes Kiele Sanchez, Rhys Coiro, Diora Baird, Harold Perrineau,
Defiance's
Mia Kirshner, Troy Ruptash, Ben Cotton, Katharine Isabelle and Jody Thompson.
02:30 PM
Daybreakers
The vampire genre is given a novel approach with lackluster results in this noir-ish horror film from the Australian filmmaking team of
Michael
and
Peter Spierig
. Existing in the near future, the picture hypothesizes a vampiric takeover of the Earth wherein the fanged population continues to go about their lives while humankind is drained of blood in order to keep the masses alive. The film's most delectable bits come when the vamps go through withdrawal and transform into blood-thirsty monsters, hungry for sustenance from wherever they can get it -- including themselves.
Cast includes Ethan Hawke, Willem Dafoe, Sam Neill, Claudia Karvan, Michael Dorman, Isabel Lucas and Vince Colosimo.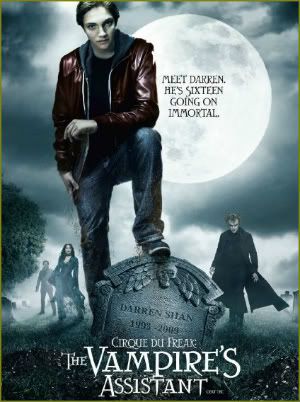 04:30 PM
Cirque Du Freak: The Vampire's Assistant
Small-town teen Darren (
Chris Massoglia
) falls in with a traveling freak show after being transformed into a vampire by the ringmaster. As Darren makes friends with the freaks, he discovers that the vampires are involved in a war with their rivals, the Vampanese, and that the supernatural underworld is about to explode.
Cast includes John C. Reilly, Josh Hutcherson, Chris Massoglia, Jessica Carlson,
Fringe's
Michael Cerveris, Ray Stevenson and Patrick Fugit.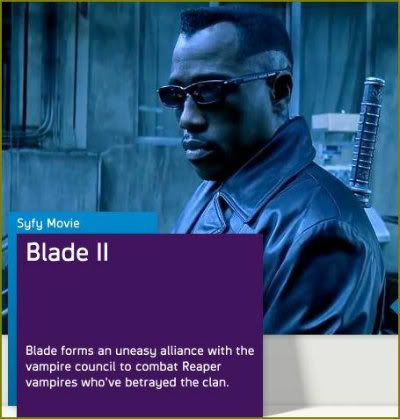 06:30 PM
Blade II
A vampire slayer (
Wesley Snipes
) teams up with the undead to take down a band of mutant bloodsuckers.
Cast includes Wesley Snipes, Kris Kristofferson, Ron Perlman, Leonor Varela,
The Walking Dead's
Norman Reedus, Luke Goss and Tony Curran.
09:00 PM
Resident Evil: Afterlife
Five years after a zombie virus decimated mankind, Alice (
Milla Jovovich
) still searches tirelessly for survivors in Los Angeles with the help of an old friend. But their rescue mission turns grim when Alice sees that the city has been overrun by zombies, and they quickly realize they've stumbled into a diabolical trap.
Cast includes Milla Jovovich, Ali Larter, Kim Coates, Shawn Roberts, Sergio Peris-Mencheta, Spencer Locke, Boris Kodjoe, Wentworth Miller, Sienna Guillory, Kacey Barnfield and Fulvio Cecere.
11:00 PM
Stake Land
After vampires overtake America, orphaned teen Martin (
Connor Paolo
) and survivalist Mister (
Nick Damici
) find themselves locked in a battle against a dangerous religious cult lead by the diabolical Jebedia Loven (
Michael Cerveris
). Later, Martin and Mister are joined by a group of weary travelers trying to find a sanctuary known as New Eden.
Cast includes Nick Damici, Connor Paolo, Sean Nelson,
Fringe's
Michael Cerveris, Bonnie Dennison, Chance Kelly, Tim House, Larry Fessenden and Kelly McGillis.
01:00 AM
War Wolves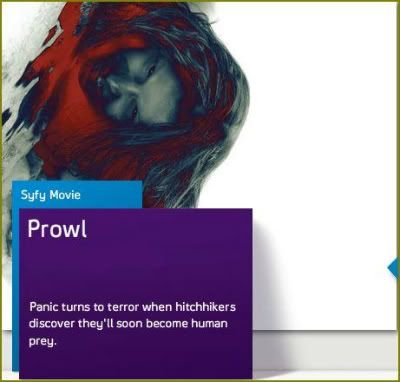 03:00 AM
Prowl
Amber (
Courtney Hope
) and her friends become prey for a hungry pack of flesh-eating creatures after they accept a ride from a trucker, who takes them to an abandoned warehouse to be hunted.
Cast includes Ruta Gedmintas, Joshua Bowman, Perdita Weeks, Jamie Blackley, Courtney Hope, Saxon Trainor and Bruce Payne.