Source: Syfy
schedulebot
[
NOTE: Syfy schedule subject to change(s)
]

HORROR MOVIE MARATHON - SYFY: SCHEDULE SUNDAY, MARCH 31, 2013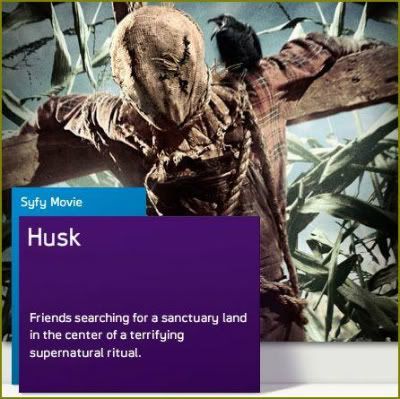 10:00 AM
Husk
A weekend trip goes awry for a group of friends when crows force their car off the road and into a creepy cornfield where horror awaits them.
Cast includes Devon Graye, Wes Chatham, C.J. Thomason, Tammin Sursok and Ben Easter.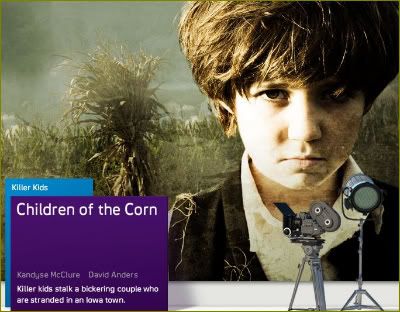 12:00 PM
Children Of The Corn
A couple (
David Anders, Kandyse McClure
) try to save their marriage with a road trip, which gets derailed when they find a strange rural town ruled by fanatically religious children. Based on the
Stephen King
short story.
Cast includes David Anders, Kandyse McClure, Daniel Newman, Preston Bailey and Robert Gerdisch.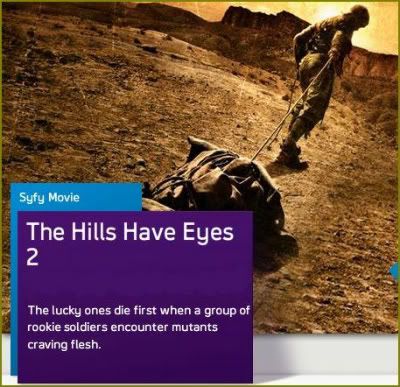 02:00 PM
The Hills Have Eyes 2
A group of National Guard trainees find themselves battling against a vicious group of mutants on their last day of training in the desert.
Cast includes Michael McMillian, Jessica Stroup, Jacob Vargas, Flex Alexander, Lee Thompson Young, Daniella Alonso, Eric Edelstein, Jeff Kober, Jay Acovone and
CSI's
Archie Kao.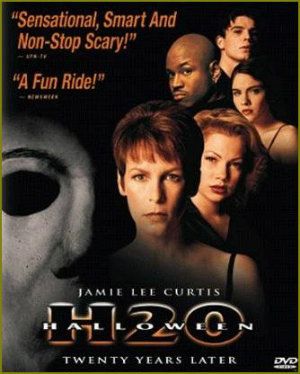 04:00 PM
Halloween H2o
Laurie Strode (
Jamie Lee Curtis
), now the dean of a Northern California private school with an assumed name, must battle the Shape one last time and now the life of her own son hangs in the balance.
Cast includes Jamie Lee Curtis, Adam Arkin, Michelle Williams, Adam Hann-Byrd, Jodi Lyn O'Keefe, Janet Leigh, Josh Hartnett,
NCIS: Los Angeles'
LL Cool J, Joseph Gordon-Levitt, Beau Billingslea, John Cassini, Jody Wood and Chris Durand.
06:00 PM
Resident Evil: Afterlife
Five years after a zombie virus decimated mankind, Alice (
Milla Jovovich
) still searches tirelessly for survivors in Los Angeles with the help of an old friend. But their rescue mission turns grim when Alice sees that the city has been overrun by zombies, and they quickly realize they've stumbled into a diabolical trap.
Cast includes Milla Jovovich, Ali Larter, Kim Coates, Shawn Roberts, Sergio Peris-Mencheta, Spencer Locke, Boris Kodjoe, Wentworth Miller, Sienna Guillory, Kacey Barnfield and Fulvio Cecere.
08:00 PM
Casino Royale
Daniel Craig
is aces in his first go-round as British secret agent James Bond, who tries his hand at outwitting a terrorist banker (
Mads Mikkelsen
). Ripping spy jinks with
Eva Green
as the Bond girl and
Judi Dench
as M.
Cast includes Daniel Craig, Eva Green, Mads Mikkelsen, Judi Dench, Jeffrey Wright, Giancarlo Giannini, Caterina Murino and Simon Abkarian.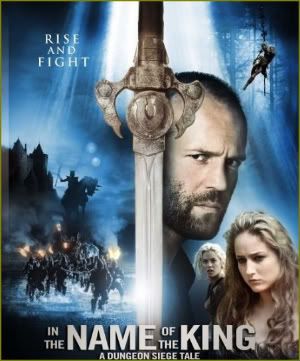 11:00 PM
In The Name Of The King: A Dungeon Siege Tale
Inconsistent accents, anachronistic performances and low-rent special effects abound in this medieval fantasy, which pits action star
Jason Statham
against armor-clad monster warriors, a wicked wizard and scantily-clad, man-hating wood sprites.
Cast includes Jason Statham, Leelee Sobieski, John Rhys-Davies, Ron Perlman, Claire Forlani, Kristanna Loken, Matthew Lillard, Mike Dopud, Ray Liotta and Burt Reynolds.
01:30 AM
Riverworld - Part One
Tahmoh Penikett
and
Alan Cummings
star in this adaptation of
Philip Jose Farmer's
novel about a group of people who die and awaken in a strange land covered almost entirely in rivers.
Matt (
Tahmoh Penikett
), an American journalist, and his fiancee, Jessie (
Laura Vandervoort
), are killed in an explosion, but reawaken in this unusual afterlife. Everyone who has ever lived on Earth has been resurrected simultaneously in this strange new world. Determined to find Jessie, Matt joins forces with an intrepid crew, including a 13th century female warrior and riverboat captain Mark Twain (
Mark Deklin
). As they embark upriver, their adventure begins, all the while tracked by the watchful eye of a mysterious alien force.
Cast includes Tahmoh Penikett, Mark Deklin,
Sanctuary's
Peter Wingfield, Jeananne Goossen, Alan Cumming, Laura Vandervoort, Chiara Zanni,
Battlestar Galactica's
Alessandro Juliani; and
Stargate
(SG1/SGA/SGU) alums Aleks Paunovic, Kwesi Ameyaw, Michael Adamthwaite, Alex Zahara, Terry Chen and Marilyn Norry.
03:30 AM
Riverworld - Part Two