Source:
TV Guide
[follow link for complete column]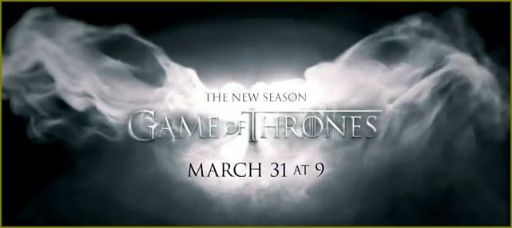 TV GUIDE: The Weekend Playlist: Thrones vs. Dead, BBCA's Dazzling Who-Orphan Combo
Mar 29, 2013
by
Matt Roush
... War is also a constant in the sprawling, enthralling world of HBO's
Game of Thrones
(Sunday, 9/8c), where a veteran soldier observes in an upcoming episode, "
There's a beast in every man, and it starts when you put a sword in his hand
." Or hers. The females are every bit as fierce as the men in this grandly realized saga of combat and treachery between and sometimes within families, in a land where magic and dragons are making a comeback but where dragon ladies are seemingly always welcome. Villainesses don't come much colder than the calculating Queen Regent Cersei (
Lena Headey
), whether sparring with her impish and battle-scarred brother Tyrion (
Peter Dinklage
) or coddling her ogre of a son, the loathsome Bad Boy-King Joffrey (
Jack Gleeson
). And heroines rarely appear so alluring as the exotic outcast Daenerys (
Emilia Clarke
), whose majestic dragons come in quite handy as she assembles an army to help her take back the Iron Throne of Westeros. But the heart of this story involves the fate of the widely scattered Stark clan, whose matriarch Catelyn (
Michelle Fairley
, poignantly worn and weary) has presided over so much tragedy that when she bares her soul to her uncle, he responds with this truism: "
It often comforts me to think that, even in war's darkest days, in most places in the world absolutely nothing is happening
."
Those parts of the world we never see on Thrones, though the scope of this series is staggering, even daunting, jumping from deadly battles in the icy North to royal intrigue in sunny Kings Landing, with dangerously picaresque detours for others, including spunky little Arya Stark (the wonderful
Maisie Williams
) and on a very eventful road trip, cocky king-slayer Jaime Lannister (
Nikolaj Coster-Waldau
) and his Amazonian captor Brienne of Tarth (
Gwendoline Christie
). The cast of characters is so immense no single episode can contain them all; little Arya isn't even seen until midway through the second episode. (This is a problem that eventually affects
George R.R. Martin's
book series.) Still, if you miss a favorite character or storyline one week, just wait: Your patience will be rewarded the next. It will take
Thrones
two seasons to cover the events of Martin's third and most darkly magnificent volume,
A Storm of Swords
. So far (judging from the first four episodes), it's living up to our highest expectations.
CLICK HERE TO VIEW A TRAILER PROMO FOR SEASON THREE