Source:
Yahoo! TV
[follow link for complete column]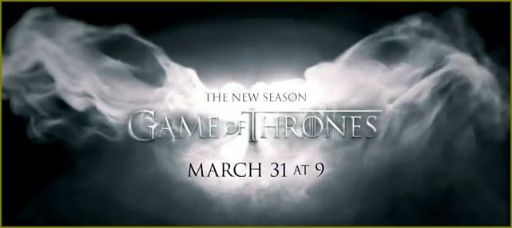 YAHOO! TV - Weekend Picks - What to Watch This Weekend
A list of can't-miss hot shows, undiscovered gems and fan favorites airing this Friday, Saturday and Sunday
...
Game of Thrones
SUNDAY 9 PM on HBO
Season Premiere
: If you don't hear from your geeky younger brother over the weekend, here's why. This weekend is an unprecedented TV nerdapalooza, headlined by the Season 3 debut of HBO's epic fantasy series. Last season was a bit of a slog, to be honest, but this week's premiere starts fast, with Jon Snow meeting the King Beyond the Wall, Tyrion bickering with sister Cersei, and Daenerys assembling an army. Oh, and did we mention there will be dragons?
CLICK HERE TO VIEW A TRAILER PROMO FOR SEASON THREE