Source: Syfy
schedulebot
[
NOTE: Syfy schedule subject to change(s)
]
VAMPIRE MOVIE MARATHON - SYFY: SCHEDULE SUNDAY, JANUARY 27, 2013
09:30 AM
Wes Craven Presents: They
"
They
" are scary creatures that haunted the childhood dreams of a psychology student (
Laura Regan
)---and "
They
" are back in this standard thriller.
Cast includes Laura Regan, Marc Blucas, Ethan Embry, Desiree Zurowski, Mark Hildreth and Jodelle Ferland.
11:30 AM
Wes Craven Presents: Dracula II: Ascension
The Prince of Darkness wreaks havoc when his charred body is regenerated by a group of researchers. A sequel to "
Dracula 2000
."
Cast includes Jennifer Kroll, Jason Scott Lee, Roy Scheider, Craig Sheffer, Diane Neal, Khary Payton, Brande Roderick, Jason London, Chris Hunter, John Light and Stephen Billington.
01:30 PM
The Amityville Horror (1979)
James Brolin
and
Margot Kidder
in an adaptation of
Jay Anson's
bestseller about a family tormented by the supernatural.
Cast includes James Brolin, Margot Kidder, Rod Steiger, Don Stroud, Murray Hamilton, John Larch, Natasha Ryan, K.C. Martel, Meeno Peluce, Michael Sacks and Helen Shaver.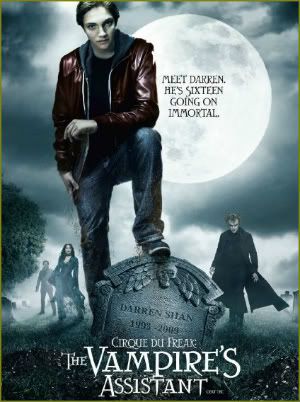 03:30 PM
Cirque Du Freak: The Vampire's Assistant
Small-town teen Darren (
Chris Massoglia
) falls in with a traveling freak show after being transformed into a vampire by the ringmaster. As Darren makes friends with the freaks, he discovers that the vampires are involved in a war with their rivals, the Vampanese, and that the supernatural underworld is about to explode.
Cast includes John C. Reilly, Josh Hutcherson, Chris Massoglia, Jessica Carlson,
Fringe's
Michael Cerveris, Ray Stevenson, Patrick Fugit, Ken Watanabe, Salma Hayek, Orlando Jones, Frankie Faison, Willem Dafoe and Jane Krakowski.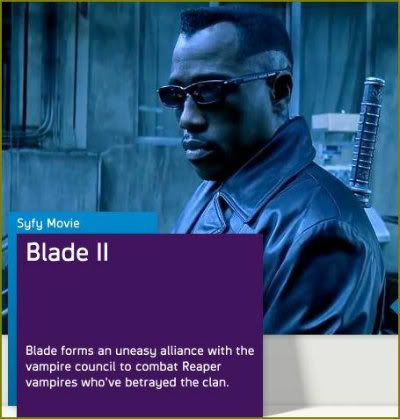 05:30 PM
Blade II
A vampire slayer (
Wesley Snipes
) teams up with the undead to take down a band of mutant bloodsuckers.
Cast includes Wesley Snipes, Kris Kristofferson, Ron Perlman, Leonor Varela,
The Walking Dead's
Norman Reedus, Luke Goss and Tony Curran.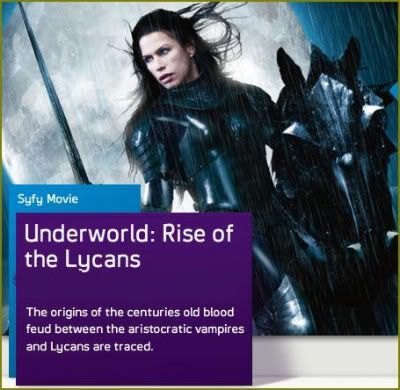 08:00 PM
Underworld: Rise Of The Lycans
A prequel to the first two Underworld films, this fantasy explains the origins of the feud between the Vampires and the Lycans. Aided by his secret love, Sonja (
Rhona Mitra
), courageous Lucian (
Michael Sheen
) leads the Lycans in battle against brutal Vampire king Viktor (
Bill Nighy
). Determined to break the king's enslavement of his people, Lucian faces off against the Death Dealer army in a bid for Lycan independence.
Cast includes Michael Sheen, Bill Nighy, Rhona Mitra, Steven Mackintosh, Kevin Grevioux, David Aston, Geraldine Brophy and Leighton Cardno.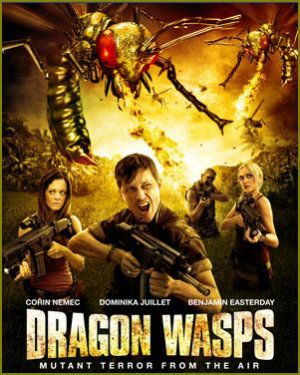 10:00 PM
Dragon Wasps
When her father mysteriously disappears on an expedition, beautiful entomologist Gina Humphries (
Dominika Juillet
) and her fiery assistant, Rhonda (
Nikolette Noel
), set out to search the rain forests of Belize. Due to numerous robberies and assaults in the jungle, they are escorted by heavily-armed soldiers. Guerillas, lead by the infamous Jaguar (
Gildon Roland
), ambush the convoy and incite a bloody shootout. Just when things can't get worse, a horde of murderous Dragon Wasps, massive flying bugs that shoot flame from their abdomens, swarms the soldiers. Now the military must defeat Jaguar's bandits and survive the fearsome insect onslaught as they venture inside the Dragon Wasps' hive.
Cast includes
Stargate SG-1's
Corin Nemec, Gildon Roland, Dominika Juillet, Benjamin Easterday, Nikolette Noel and Cosondra Sjostrom.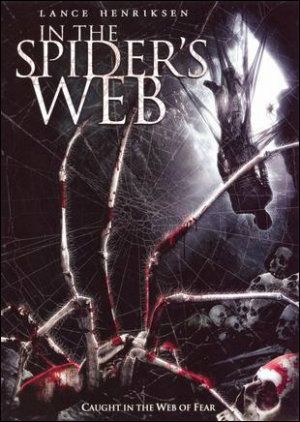 02:00 AM
In The Spiders Web
Misguided travelers become the bait for a bizarre group of spider worshipers, hell-bent on attracting creepy crawlers of every size.
Cast includes Lance Henriksen, Emma Catherwood, Lisa Livingstone, Cian Barry, Sohrab Ardeshir, Mike Rogers, Michael Smiley, Jane Perry and Rajesh Latkar.