Source:
Syfy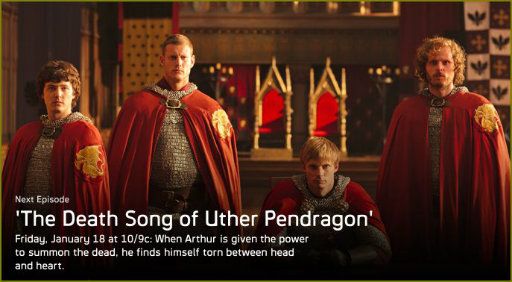 MERLIN - SYFY VIDEO: 'THE DEATH SONG OF UTHER PENDRAGON' SNEAK PEEK - AIRS FRIDAY, JANUARY 18, 2013 AT 10/9C
Watch a sneak peek of the next all-new episode of Merlin, Friday at 10/9c.
When a stranger gives Arthur (
Bradley James
) the power to summon the dead, the king finds himself torn between head and heart. Unable to resist temptation, he seizes the chance to speak to the person he misses most - his father, Uther (
Anthony Head
). But the spirit world is a dark and dangerous place... Little does Arthur realize that his decision comes at a terrible price. Against all odds, Merlin (
Colin Morgan
) must put right Arthur's mistake before Camelot and everything they have built is destroyed forever.
Guest stars include Jane Thorne, Gordon Munro, Rupert Young, Adetomiwa Edun, Alexander Vlahos, Eoin Macken, Tom Hopper and Anthony Head.