Source: Syfy
schedulebot
[
NOTE: Syfy schedule subject to change(s)
]
SUPERNATURAL MOVIE MARATHON - SYFY: SCHEDULE FRIDAY, JANUARY 25, 2013
08:30 AM
The Messengers
Semi-creepy chiller about ghosts haunting a teen (
Kristen Stewart
) who has moved from Chicago to rural North Dakota with her family.
Cast includes Kristen Stewart, Dylan McDermott, Penelope Ann Miller, John Corbett, Evan Turner, William B. Davis and Jodelle Ferland.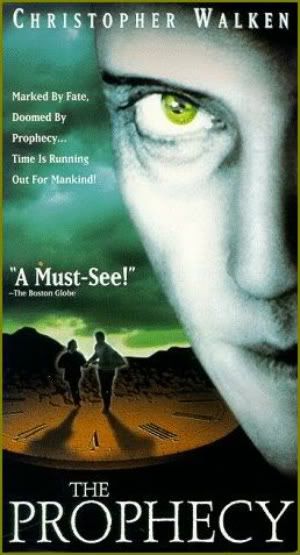 10:30 AM
The Prophecy
Angered that God gave souls to humans, Gabriel (
Christopher Walken
) leads an army of evil angels to raise hell on Earth.
Cast includes Christopher Walken, Elias Koteas, Virginia Madsen, Eric Stoltz, Viggo Mortensen, Amanda Plummer, Moriah 'Shining Dove' Snyder and Adam Goldberg.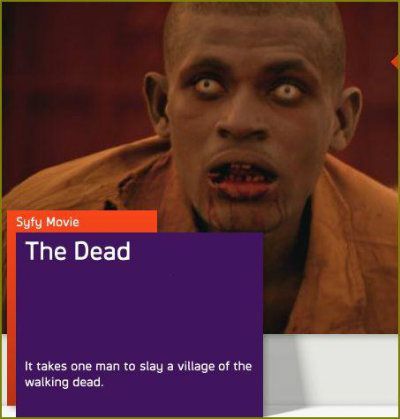 12:30 PM
The Dead
When the last evacuation flight out of war-torn Africa crashes off the coast, American Air Force Engineer Lieutenant Brian Murphy (
Rob Freeman
) emerges as the sole survivor in a land where the dead are returning to life and attacking the living.
Cast includes Rob Freeman, Prince David Oseia, David Dontoh, Ben Crowe, Glenn Salvage, Dan Morgan, Julia Scott-Russell and John Dunton-Downer.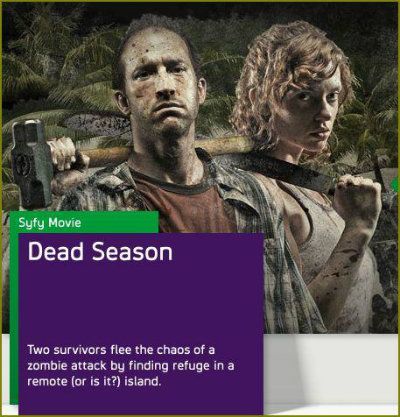 03:00 PM
Dead Season
In the aftermath of the zombie apocalypse, survivors Elvis (
Scott Peat
) and Tweeter (
Marissa Merrill
) flee to the safety of a tropical island, only to find that the locals have lost their humanity and pose an even greater danger than the undead.
Cast includes Scott Peat, Marissa Merrill, James C. Burns, Corsica Wilson, Marc L. Fusco, Todd Pritchett, Grant Beijon, Kevin O. Matta, Anna Vawser, Greg Weisman, Leishla M. Perez Figeroa and Sean McDonald.
05:00 PM
Resident Evil
A special military unit fights a powerful, out-of-control supercomputer and hundreds of scientists who have mutated into flesh-eating creatures after a laboratory accident.
Cast includes Colin Salmon, Milla Jovovich, Michelle Rodriguez, Eric Mabius, James Purefoy, Martin Crewes, Ryan McCluskey and Oscar Pearce.