Source:
SciFi and TV Talk
[follow link for complete interview]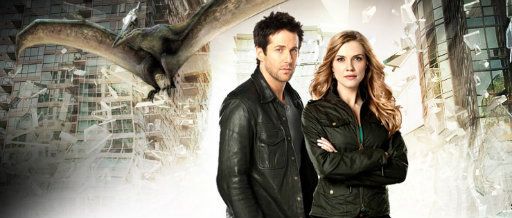 SCIFI AND TV TALK: Primeval: New World's Sara Canning - Animal Instincts
by
Steve Eramo
11/07/2012
When she was just 11 years old, actress
Sara Canning
began performing onstage in school plays and musicals. Back then it was just something she enjoyed doing as opposed to a potential future career. However, all that changed when she got a little bit older and enrolled in university. "
Suddenly I woke up one day and realized that I was working two jobs because subconsciously I wanted to move to Vancouver, and I was also spending more time doing plays than my homework
," recalls
Canning
with a smile
"
So I thought, OK, maybe I should give it [acting] a shot.' Even then, though, I didn't think that one day I would actually get paid to do this, but things eventually work out if you really want them to and, of course, if you work hard enough at them
."
A graduate of the Vancouver Film School's prestigious acting program,
Canning's
breakthrough role came with the made-for-cable TV movie
Taken in Broad Daylight
. Since then, she has amassed a varied and impressive list of feature film and TV credits. Currently, the actress can be seen playing Dylan Weir in the SPACE Channel's new Sci-Fi series
Primeval: New World
. Her character is part of a team based in Vancouver, British Columbia that deals with prehistoric and in some cases futuristic creatures as well as people that come through rifts in time called Anomalies.
"
One of the neat things about Dylan is that she's a predator expert; that's her job description, and she joins Evan Cross' [Niall Matter] team,
" says
Canning
. "
She sort of comes upon Evan in the middle of the woods, and all of a sudden there are dinosaurs and these weird flashing lights. If that's your first meeting with someone, you can't help but probably be angered but at the same time rather intrigued as well...
"
Primeval: New World premieres on Syfy in 2013, and airs in Canada on the Space Channel, on Monday at 10PM.
Primeval: New World
cast includes
Eureka's
Niall Matter, Sara Canning, Danny Rahim, Crystal Lowe, Miranda Frigon and Geoff Gustafson.