Source:
Hallmark Channel
You Tube channel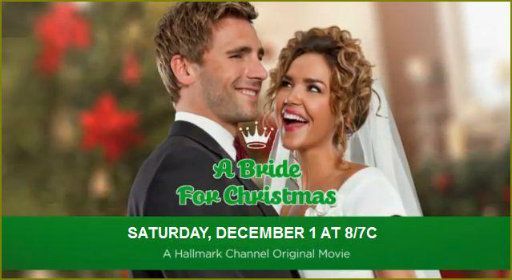 A BRIDE FOR CHRISTMAS - HALLMARK CHANNEL VIDEO: MOVIE TRAILER - PREMIERES SATURDAY, DECEMBER 1, 2012 AT 8/7C
After Jessie Patterson (
Arielle Kebbel
) calls off her third engagement - at the altar! - she swears off serious relationships until she finds "the one." That is, until charming but chronically single Aiden MacTiernan (
Andrew Walker
) comes along. Unbeknownst to Jessie, Aiden has bet his friends that he can convince a woman to marry him by Christmas - which is only four weeks away - and Jessie is the target of his bet.
Cast includes Arielle Kebbel, Sage Brocklebank, Chelsey Reist, Peter Benson, Karen Kruper, Matt Bellefleur, Jordana Largy, Julian Bailey and Andrew Walker.