Source: Syfy
schedulebot
[
NOTE: Syfy schedule subject to change(s)
]
SCIFI MOVIE MARATHON - SYFY: SCHEDULE MONDAY, AUGUST 6, 2012
09:00 AM
AVH: Alien Vs. Hunter
A hunter from space tracks a deadly alien creature on Earth.
Cast includes William Katt, Dedee Pfeiffer, Wittly Jourdan, Randy Mulkey, Jennifer Couch, Jason S. Gray, John Murphy Jr. and Kevin Kazakoff.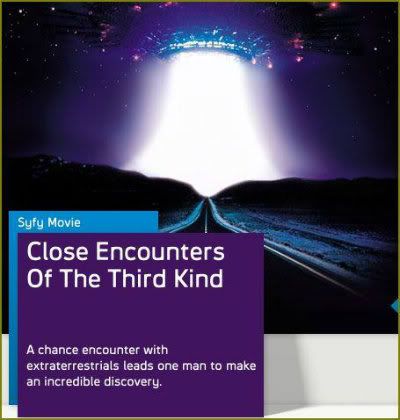 11:00 AM
Close Encounters Of The Third Kind
After an encounter with UFOs, a line worker feels undeniably drawn to an isolated area in the wilderness where something spectacular is about to happen.
Cast includes Richard Dreyfuss, François Truffaut, Teri Garr, Melinda Dillon, Bob Balaban, J. Patrick McNamara, Warren J. Kemmerling, Roberts Blossom, Philip Dodds, Cary Guffey, Lance Henriksen and Josef Sommer.
02:00 PM
War Of The Worlds 2: The Next Wave
Hostile aliens return to Earth two years after their first invasion.
Cast includes C. Thomas Howell, Christopher Reid, Kim Little, Jonathan Levit, Danna Brady and Fred Griffith.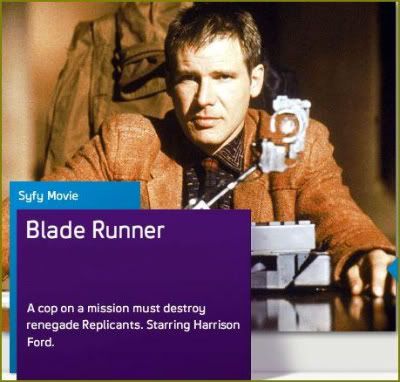 04:00 PM
Blade Runner
Superb special effects propel
Ridley Scott's
thriller about a 21st-century detective (
Harrison Ford
) assigned to destroy rebellious androids.
Cast includes Harrison Ford, Rutger Hauer, Sean Young,
Battlestar Galactica's
Edward James Olmos, M. Emmet Walsh, Daryl Hannah, William Sanderson, Brion James, Joanna Cassidy and James Hong.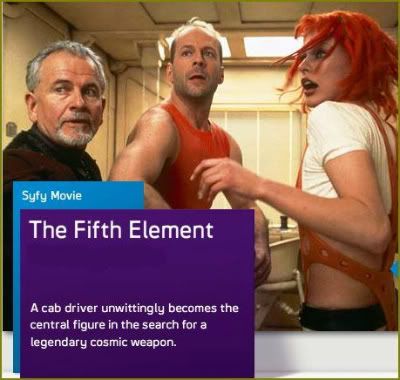 06:30 PM
The Fifth Element
Great special effects, ludicrous script.
Gary Oldman, Milla Jovovich
. Directed by
Luc Besson
("
La Femme Nikita
"), who wrote the story when he was a teen. Besson also invented the unique language spoken by the alien Leeloo. Netted an Oscar nomination for Sound Effects Editing.
Cast includes Bruce Willis, Gary Oldman, Ian Holm, Milla Jovovich, Chris Tucker, Luke Perry, Brion James and Tommy 'Tiny' Lister.